2020 has been a write-off when it comes to music festivals thanks to 'you know what'! The Punktuation team have their fingers crossed that come 2021 the pandemic is all over and music, laughter, muddy fields, overpriced beer and overflowing port-a-loos are back! Here are a just few rescheduled 2021 festivals to bung in your diaries!
So, 2020 has obviously been a bit of cluster-fuck on the live music front, with barely a live gig taking place since April, let alone a full-blown festival. It's a known fact that festivals help promote diversity, they increase creativity, and most importantly they improve our general psychological well-being – in short, they make the world a better place to live.
If this bollocks is all over by the turn of the new year then we are all going to have a lot of catching up to do! So, let's get down to planning our punk festival antics for 2021. Go Grab your planers!
Rebellion Punk Music Festival 2021
The elite UK punk festival, ever-popular across the punk community thanks to its ability to attract big names from punk rock royalty.
Where: Blackpool, United Kingdom. The place with the big tower and all the lights.
When: Thursday 5th– Sunday 8th August 2021
Who's gonna be there? It's a fabulous line up including Bad Religion, Stiff Little Fingers, Cock Sparrer, Sham 69, The Undertones, Circle Jerks, Steve Ignorant and Henry Rollins. Check out some of the amusement arcades and break your teeth on some Blackpool rock in your downtime.
How much are tickets? £180 for the weekend, day tickets from £75.
---
Loud Women Fest, 2021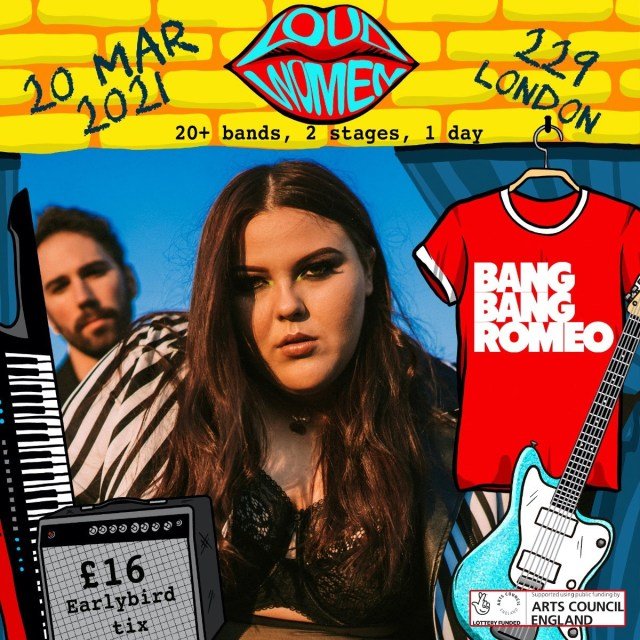 Loud Women is a one-day female-led spectacular that showcases female and non-binary alternative bands and artists from around the world.
Where: London, UK. One of the largest venues the one-dayer has ever played at- 229 Great Portland Street, London.
When: Saturday March 20th, 2021.
Who's gonna be there? Bang Bang Romeo, Breakup Haircut, I, Doris, Jelly Cleaver plus more to be announced.
How much are tickets: About £20 for the day and you'll be getting a LOT of bands for that price.
---
Riot Fest 2021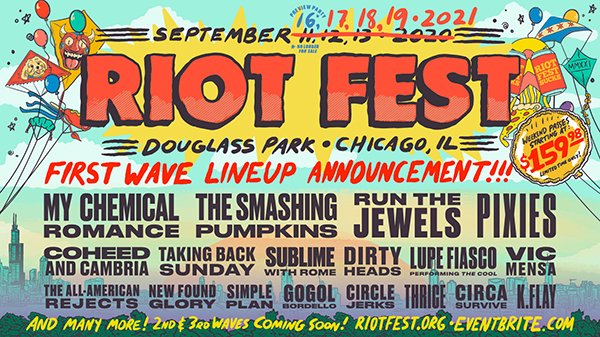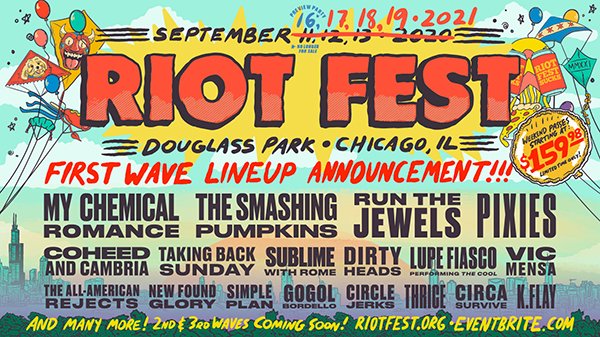 Riot Fest is a multi-day festival that often boasts an impressive line-up of punk, alternative, metal, and hip-hop bands.
Where: Douglas Park Chicago.
When: 17th-19th September 2021
Who's gonna be there? Headliners in 2021 are slightly more on the Emo side of things with My Chemical Romance and Smashing Pumpkins but pop-punk is represented with New Found Glory and Simple Plan and there's also Circle Jerks, L7 and The Pixies to enjoy.
How much are tickets? Basic 3-day passes (no VIP frills) will start at $170.
---
---
Slam Dunk 2021


Possibly regarded as one for the young 'uns, it's normally a modern pop-punk and ska-punk affair at this one-day festival held every May.
Where: One day in Leeds and one day in Hertfordshire. That's one 'oop north' and one 'dahn sarf' for our non-UK readers.
When: 29th May (Leeds) 30th May (Hertfordshire)
Who's gonna be there? You'd be forgiven for thinking it is 2001 rather than 2021 with this line up: Sum 41, Pennywise, Don Broco, NOFX, Zebrahead and The Vandals.
How much are tickets? About £75
---
Scarborough Punk Festival 2021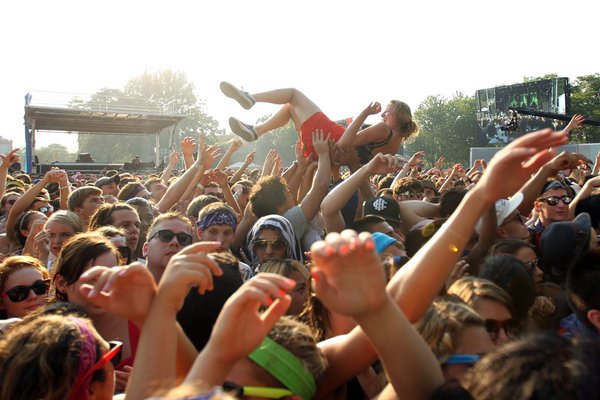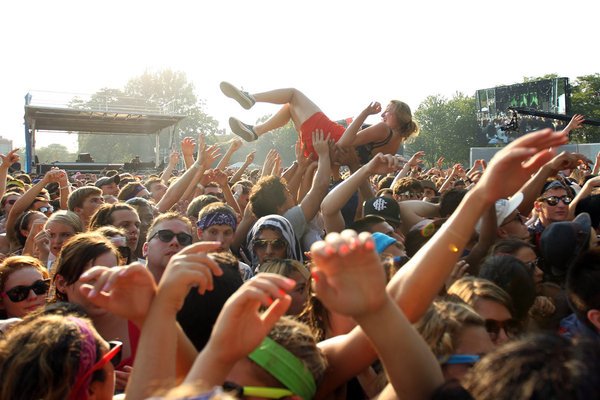 If classic punk is more your scene and you like to listen to it by-the-sea, then this is the festival for you.
Where: Well…..Scarborough.
When: 27th and 28th March 2021
Who's gonna be there? The Skids, The Wildhearts, The Anti-Nowhere League, 999 and The Vibrators.
How much are tickets? Circa £41 for Saturday and £29 for Sunday.
---
Smash Fest Cardiff 2021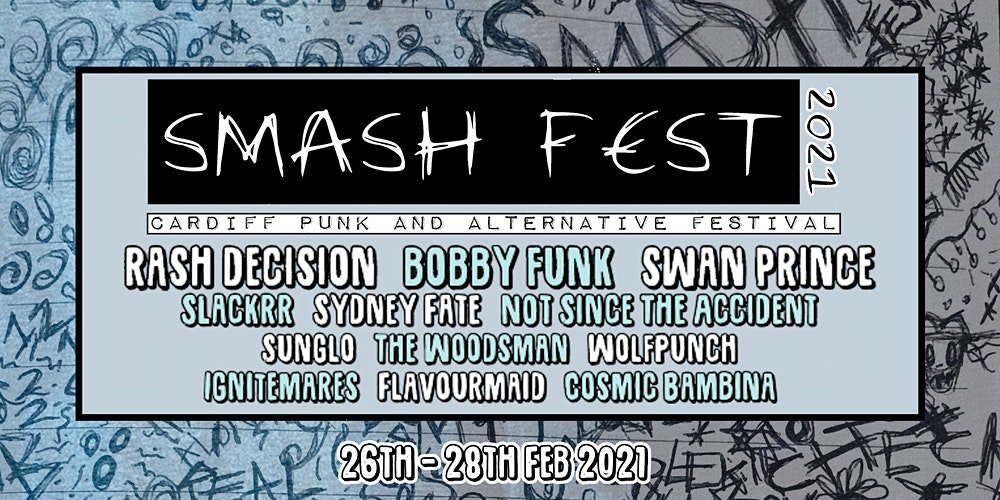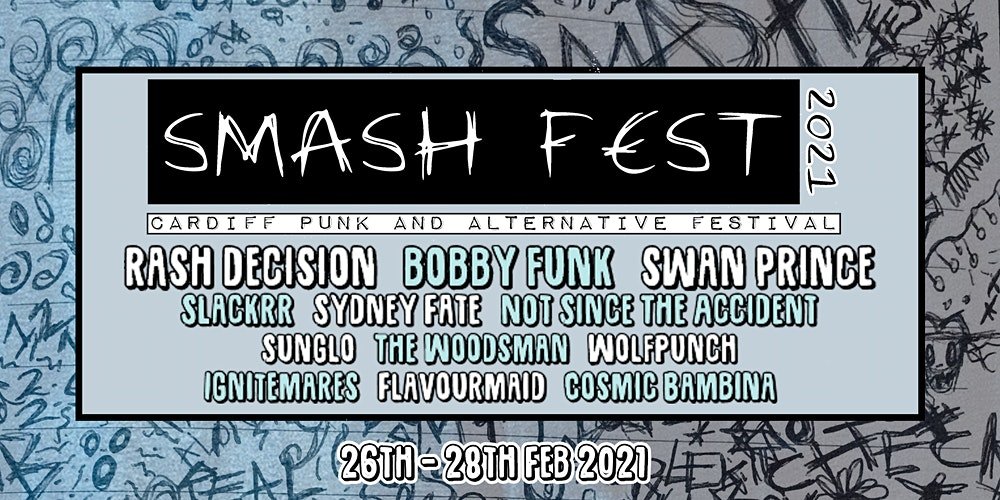 A three-day event that puts on and promotes grassroots punk and alternative bands. If you are looking for some new bands to get into then heading to smaller festivals like this one could be a good idea!
Where: The Moon, Cardiff.
When: 26th-28th February 2021
Who's gonna be there? Rash Decision, Bobby Funk, Swan Prince and Slackrr.
How much are tickets? A tenner for the weekend- bargain!
---
---
Punk Rock Bowling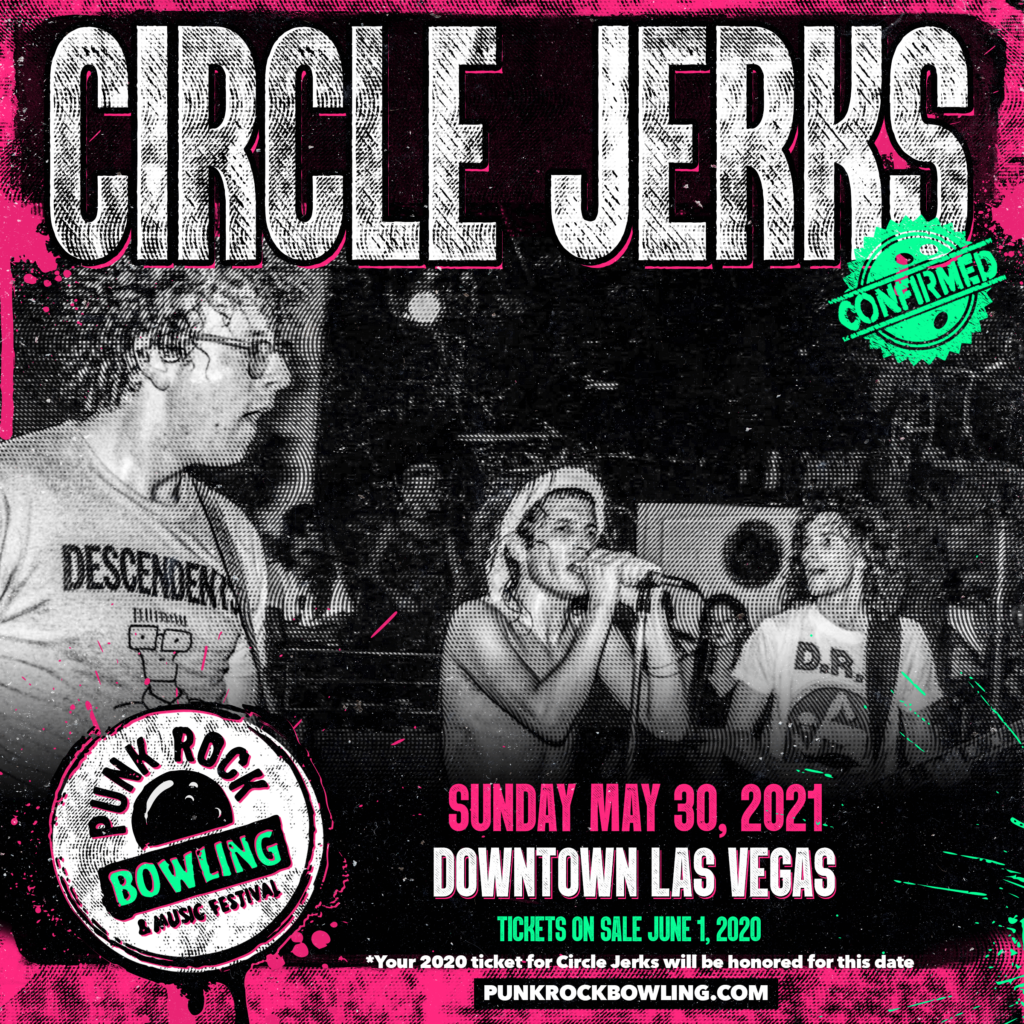 For those punk fans across the Atlantic (or those willing to travel there!) Punk Rock Bowling is an immensely popular punk festival that started in 1999 celebrating the fun, good-time aspects of watching punk rock and ska with friends. And there is bowling!
Where: Downtown Las Vegas
When: May 21st-25th 2021
Who's gonna be there? Madness and Circle Jerks (they're getting around aren't they?) are confirmed as headliners. Organisers are confident that those bands that were due to play 2020 are going to come back but this is subject to change. If the organisers are right, this would include Anti-Flag, Adicts, Mighty Mighty Bosstones, Lunachicks and Propagandhi.
How much are tickets? 3-day pass $170
---
Nova Rock 2021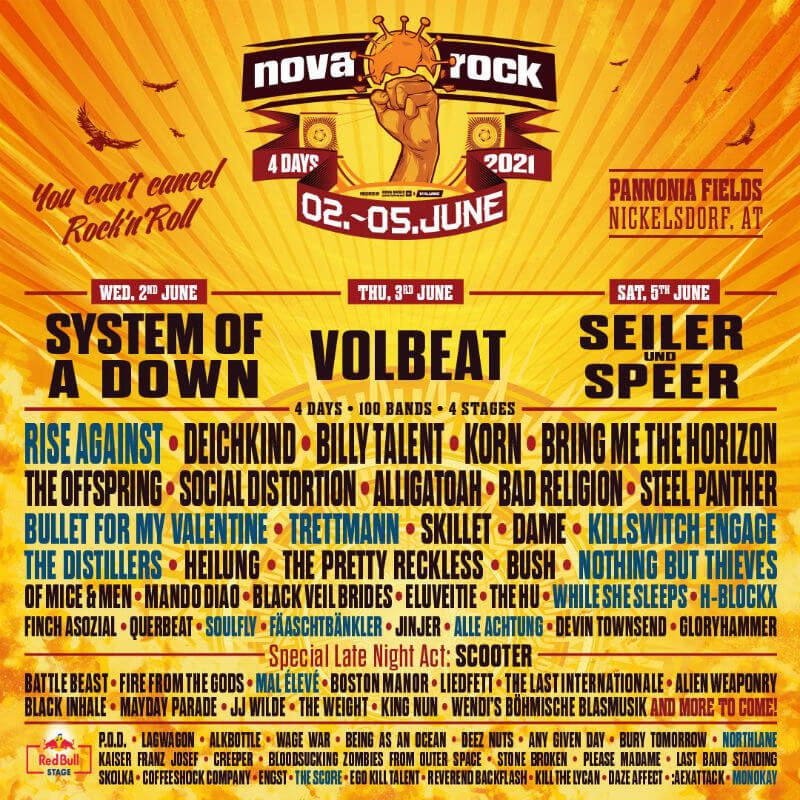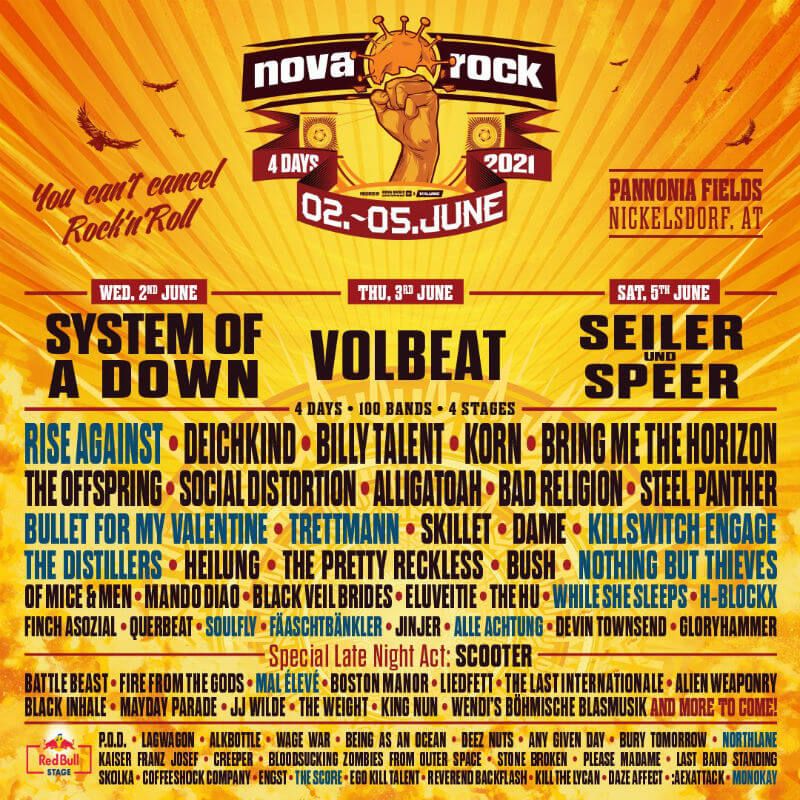 More of a general rock festival held in Austria, 2021 has some great punk names on the line up next year!
Where: Pannonia Fields in Nickelsdorf, Austria.
When: 2nd-5th June 2021.
Who's gonna be there? Amongst the metal names of Korn, System of A Down and Muse, there's Social Distortion, Rise Against, The Offspring and Bad Religion.
How much are tickets? €195 for the three days
---
Rock AM Ring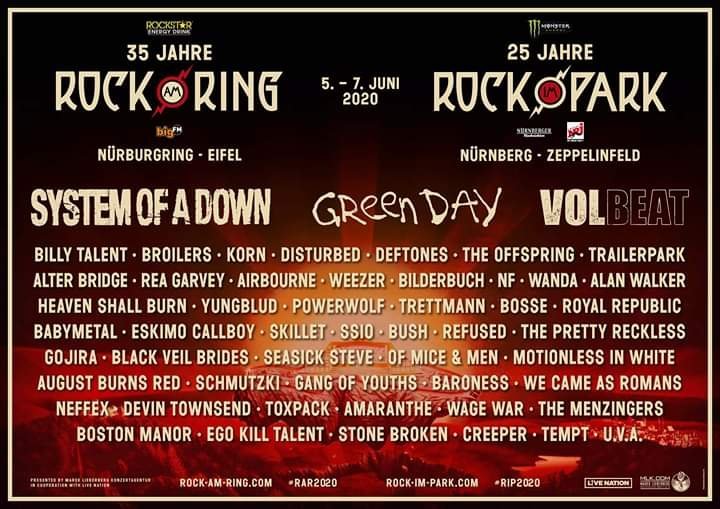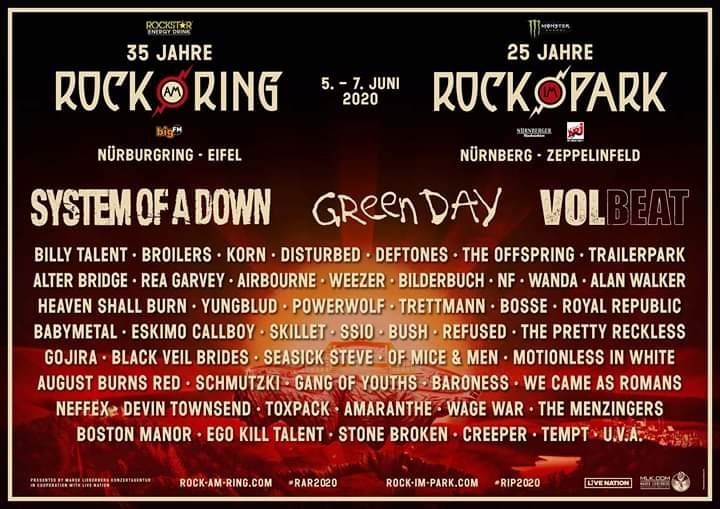 Rock Am Ring is one of the biggest music festivals in Europe. Here's some trivia: The 2007 festival was used in a science experiment to test the effects of large bodies of people simultaneously jumping. The experiment data was used to calculate the result if the entire Chinese population were to jump in unison. The more you know!
Where: Nürburgring, Germany
When: 11th-13th June 2021.
Who's gonna be there? Green Day, Fall Out Boy, The Distillers, The Offspring, Weezer.
How much are tickets? Tickets for 2021 are not yet on sale.
---
Punk in the Park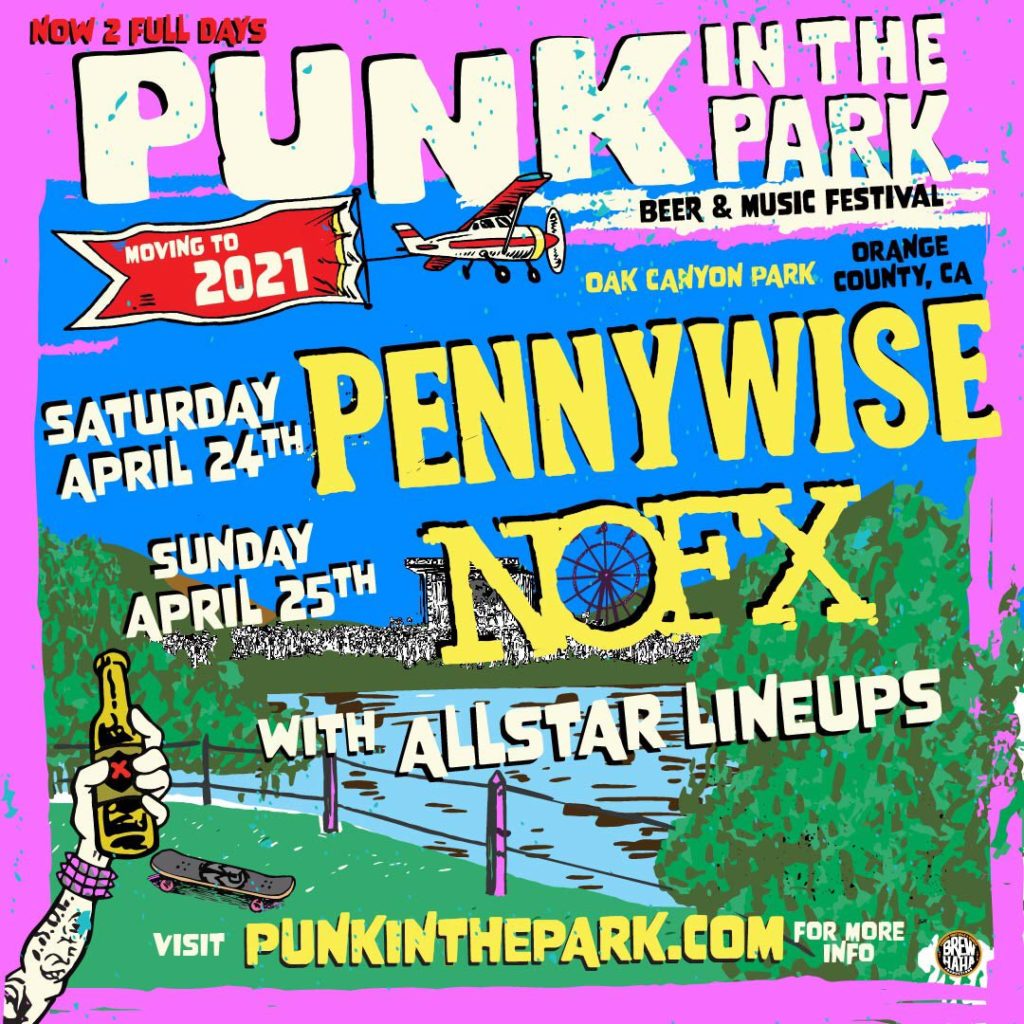 Punk in the Park promises to be 2 days of punk rock and beer. What more do you need?
Where: Oak Canyon Park, California.
When: April 24th and 25th 2021.
Who's gonna be there? Me First and The Gimme Gimmes, Pennywise, NOFX and loads more to be announced.
How much are tickets? Single day, no-frills tickets between $39 and $59 and 2 day tickets $85-$99
---
Punk In Drublic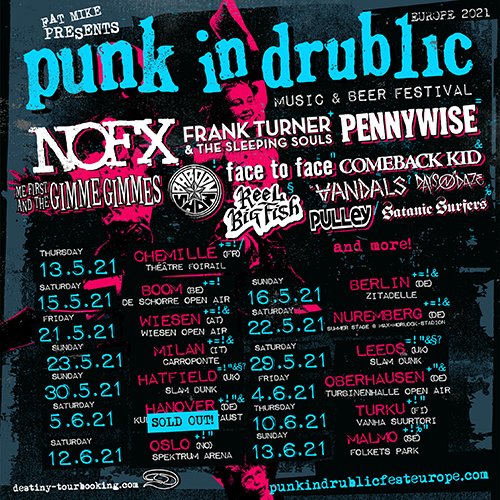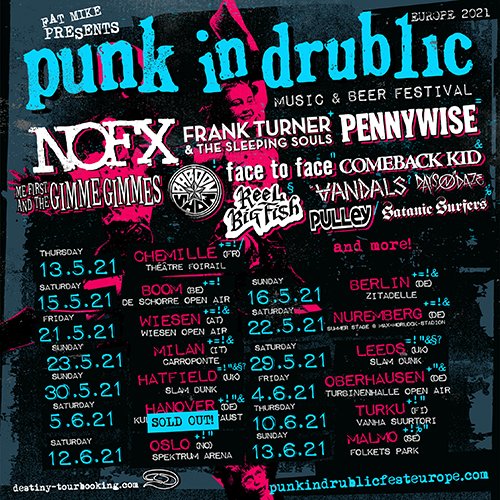 Craft beer and music touring festival which is the brainchild of NOFX's Fat Mike.
Where: Various locations including Berlin, Milan, Malmo, and Oslo. They will also be tagging on to the Slam Dunk fest in Leeds and Hertfordshire.
When: May and June 2021.
Who's gonna be there? NOFX, Pennywise, Frank Turner and The Sleeping Souls and Me First and the Gimme Gimmes.
How much are tickets? Varies depending on location.
---
Nice N Sleazy Festival 2021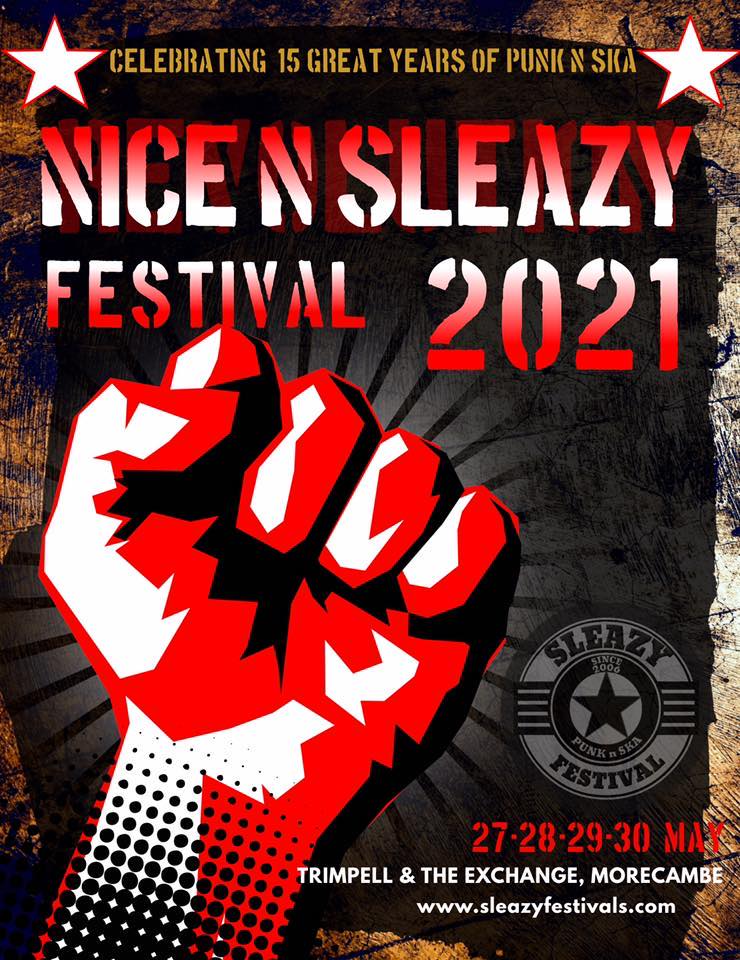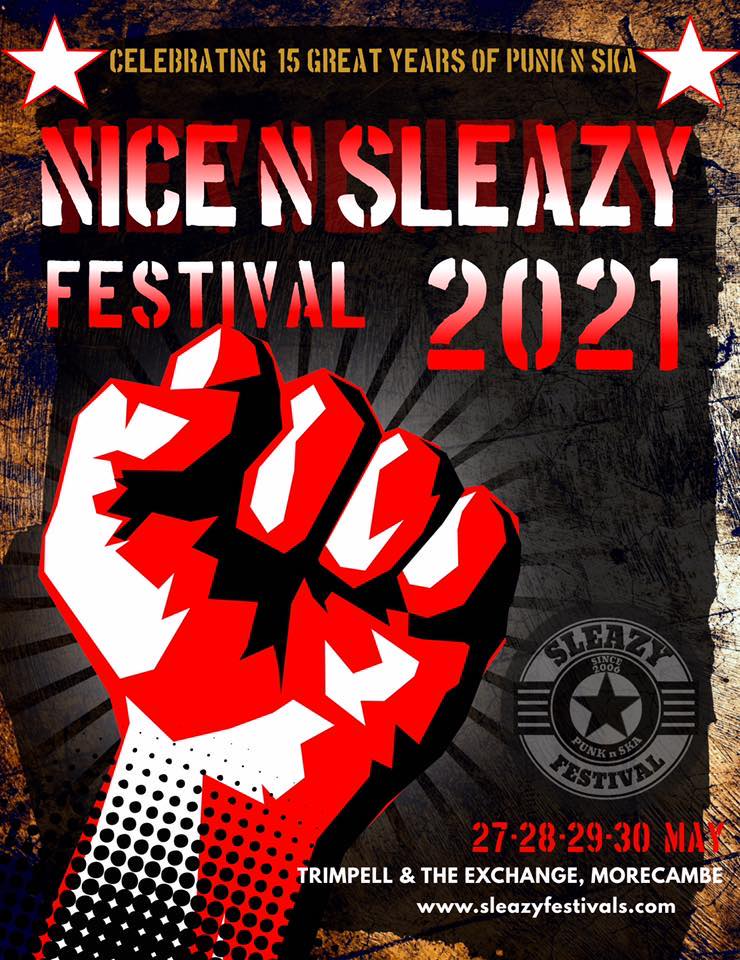 This punk and ska fest guarantees a weekend to remember, run by a team that promises to go the extra mile. They are disability-friendly and in partnership with Morecambe Food Bank so if you want a fest that wears its conscience on its sleeve then you've found one.
Where: Morecambe, UK.
When: 27th-30th May 2021
Who's gonna be there? It's a packed roster with 70+ bands playing well into the wee hours on each day so make sure you bring some stamina. Some acts for next year are still being confirmed but so far we know they've got Subhumans, The Members, The Webb, The Kingcrows and about 65 other bands. There's also a punk disco every night for those who want to dad-dance to the classics.
How much are tickets? Standard pricing is £60 per adult for a full weekend including camping. They do cheaper rates for young 'uns (13-17) and they do a great deal on a family ticket so bring Grandma.