Punk icon, Gaye Black (a.k.a. Gaye Advert) gets behind the Punktuation turntable to spin her fave punk tracks
In a new regular feature, we speak to punk-loving celebs and ask them: "If you were only allowed to have ten punk singles in your record collection, which ones would they be?"
Gaye Black started playing bass in her room to "simply pass the time." After finishing college, qualifying in graphic design, she moved to London with T.V. Smith, and while there, they formed The Adverts.
Gaye soon became one of the first female icons of the punk rock movement. With her photogenic looks, heavy eye makeup and omnipresent leather jacket, she defined the face of female rock stars well into the '80s and beyond!
After the demise of the Adverts in 1979, Gaye stopped playing the bass and disappeared from the music scene completely and became a manager for the UK social services.
Today, you will find her more often in an art studio than a recording studio. In a recent interview with Punktuation Mag she described her art as: "Dark, a bit creepy, grotesque in places but with contrasts -it has an unlikely mix of things. I try to grow old gracefully but I tend to fail when I start on my art."
---
Written by: Gaye Black
10. DEAD BOYS – Sonic Reducer (Young, Loud and Snotty )
Fast and furious, Cheetah Chrome's relentless guitar and Stiv Bators' sneering vocals is another example of the perfect punk anthem, much covered by many an adoring band.
---
9. RAMONES – Chain Saw (Ramones)
One minute and fifty-five seconds of straight to the point perfection from their self titled first album. I loved the Ramones, loved Texas Chain Saw Massacre – an unbeatable combination.
---
8: PENETRATION – Don't Dictate ( The Best of Penetration )
I got my parents to buy this single for me for Christmas 1977, I loved it then and still do, and it's a phrase that still springs to mind in many day to day situations. It is also evocative of many happy times spent with these lovely people.
---
7: DEVO – Jocko Homo (Are We Not Men? A: We Are Devo!)
This was so different from anything else around at the time. The jerkiness and unusual instrumentation and Mark Mothersbaugh's distinctive voice drew the listener into their quirky world of weirdness. Devo's songs stay stubbornly in your head for days after listening to them.
---
6: THE ADVERTS – Bored Teenagers (The Roxy London WC2)
I particularly enjoyed playing this, pure energy! And a sentiment that doesn't age. I actually was a bored teenager when Tim wrote this and we first started playing it!
---
5: THE DAMNED – New Rose ( Damned Damned Damned.)
Another classic that bounds into your consciousness with so much energy from the very first bar. This was the first UK punk record and still one of the best.
---
4: THE STRANGLERS – Walk On By (Black And White)
I loved J J Burnel's bass playing and I was always riveted by his lines when they played this track live, so intricate and rhythmic.
---
3: NEW YORK DOLLS – Personality Crisis (New York Dolls)
Another proto-punk classic, still takes me back to my art school days, blasting it out in my basement room. A bit garagey, a bit glam, and very original. David Johansen's vocals and Johnny Thunders' guitar – a wonderful combination.
---
2: THE SEX PISTOLS – Anarchy in the UK (Never Mind The Bollocks)
Ah, those unmistakable opening chords, that singalong chorus – takes me back to those early gigs and what seemed like a never-ending wait till they actually put out a single so that I could listen to them between live gigs. I stuck pictures on the plain black sleeve, which in retrospect was a rather bad idea – over the years, the glue affected the vinyl, and it became pretty unplayable!
---
1: IGGY AND THE STOOGES – Search and Destroy (Raw Power)
This song just oozes excitement and an edginess that put everything I'd heard before it in the shade. The whole Raw Power album became an instant classic to me as soon as I heard it. Iggy's vocals, James Williamson's guitar – unbeatable
---
Follow Gaye Black On Her Socials
---
Like This Story? Then Check These…This block contains unexpected or invalid content.Attempt Block Recovery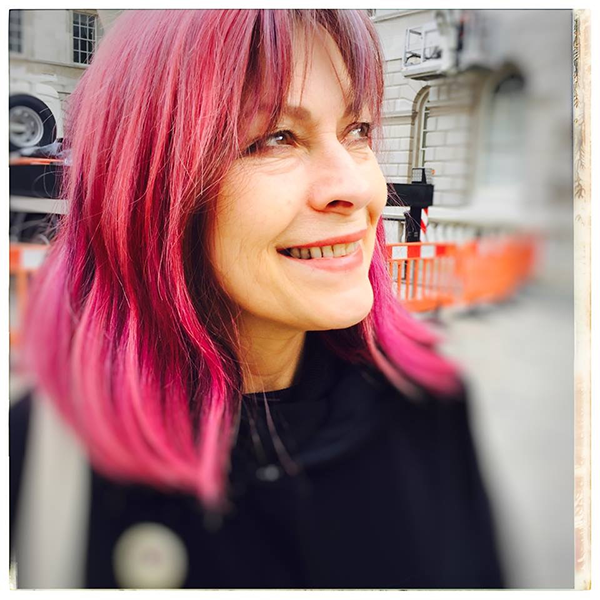 I spent three years at art college, qualifying as a graphic designer before becoming bass player with the Adverts. I am now exhibiting regularly and curating the odd show.
I have designed covers for records including the Paul Fox memorial album, PIL and Alvin Gibbs, and my work has been featured in books including The Truth of Revolution, Brother by Lisa Sofianos, Robin Ryde & Charlie Waterhouse, Black Metal Colouring Book (feralhouse) and Growing Up With Punk by Nicky Weller, Barry Cain, Russell Reader and Den Davis .
My work references my past, and explores contrasts – between attraction and horror, control and chaos, rough and smooth.  I am inspired by surrealism and artists including Hieronymus Bosch, Goya, Leonora Carrington and the Chapman Brothers. Also horror films and books, extreme music, victorian grottos, and my own dreams, which I have been basing work on recently.