Sporting his new mohawk, Punktuation's Roger Kasper checks out The Stranglers, 999, The Undertones, The Ramonas, Headsticks and many more on days 2 and 3 of the UK's biggest Punk Fest!
I've been looking forward to Rebellion for months. The excellent line-up, the experience and the atmosphere.
But I won't lie; there were two things I needed to get in the bag before I could truly relax.
Being a massive Stranglers fan, I needed to make sure I'd seen them at R Fest.
The job was done on Friday with a beautiful beach sunset, the lights illuminating the Blackpool Tower, and the moon in the distance behind the stage.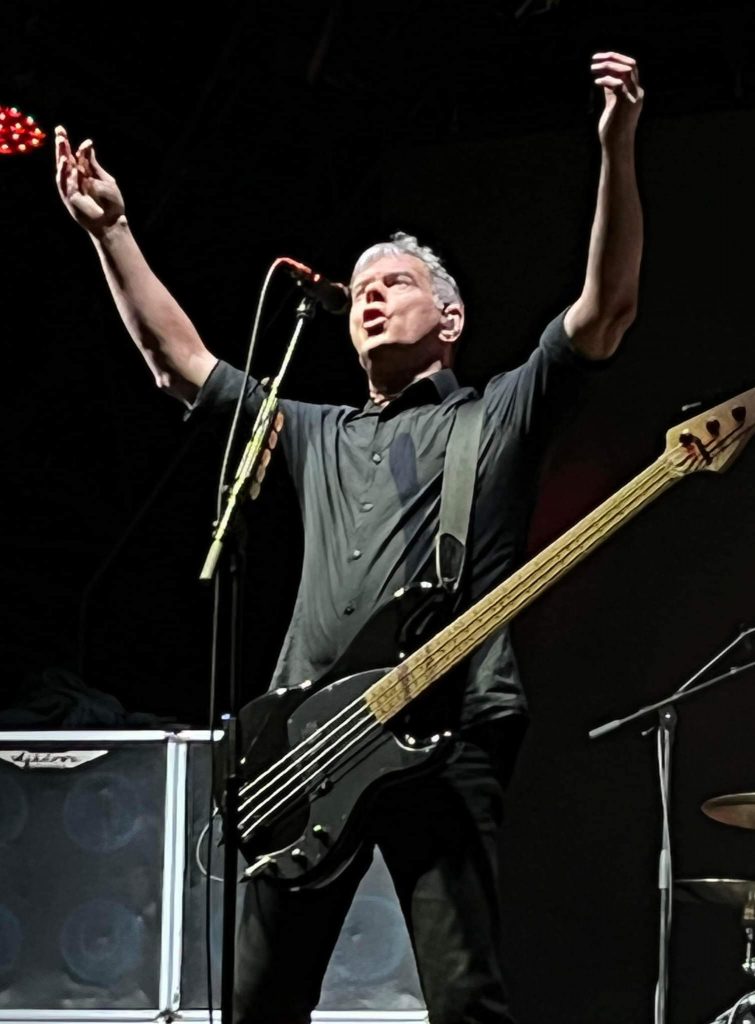 And, boy, were they great. With a slightly trimmed version of their 'Dark Matters' tour set, nicely honed to rock through 'Grip', 'Peaches', 'Something Better Change', '5 Minutes', 'Nuclear Device', 'Hanging Around' and rounding it off with 'No More Heroes'. Yes, of course, there was 'Golden Brown' and some 'new' tracks like 'White Stallion, Relentless' and 'This Song'.
The set was flawless, and everyone who saw them were no doubt blown away.
Now onto the second aim of the weekend – Blackpool Parkrun.
Now, this is not as weird as it sounds, as I know there was a Rebellion 5k run along the seafront on Friday (how did I miss this?).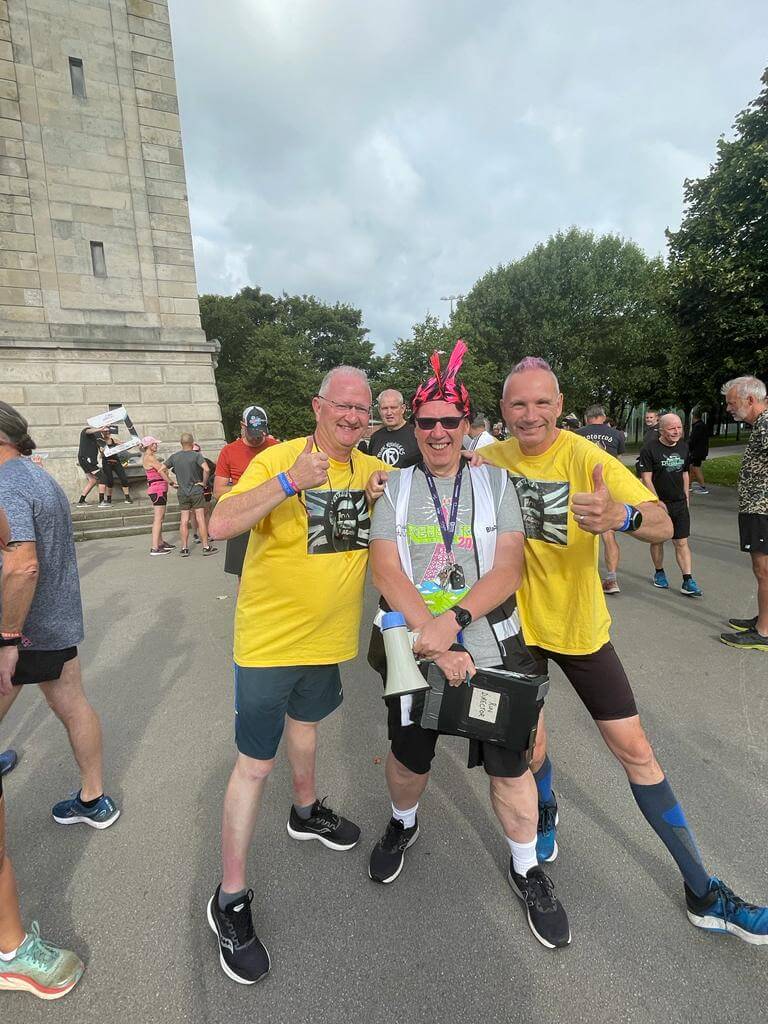 So, on Saturday morning, I eschewed my regular board and lodgings fry-up for brekkie to head to Stanley Park for one of the most beautiful Parkruns I have experienced since I got the bug in 2018.
I wondered if we might be the only 'punks' on parade, but sure enough, there was a good contingent, and some of the regular local parkrunners had dressed for the occasion with party Mohicans.
The Parkrun is a mix of park, trail, roadside, round a lake, skirting the miniature golf course and up a slight hill. It's got everything!
And the people were so friendly, with many drawn in by our Priti Vacant t-shirts, including Jan who was very taken by us!
Back to Rebellion and to Friday, where my afternoon is dominated by trying to track down Paul Cook for an interview. He's not at his hotel, his tour manager's not answering his phone, and the PR is pulling out his hair. The interview doesn't happen.
Well, at least I've done my steps!
I've missed Jilted John and Toyah, so it's to R Fest to save the day with the brilliant Skids, the patchy Undertones (strange, unbalanced set for me) and rounded off by the Stranglers.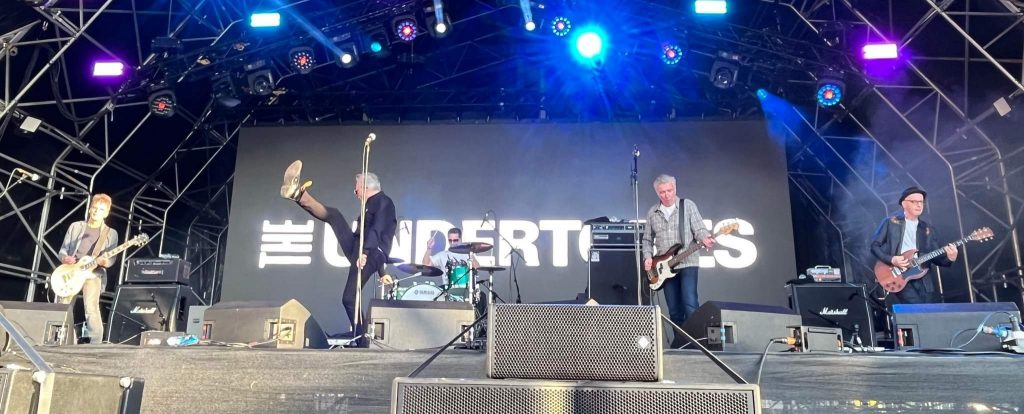 R Fest swamps the Winter Gardens after emptying, but I manage to catch the Lovely Eggs (kooky and well worth the watch), and the Skids acoustic (haunting acapella version of 'Waltzing Matilda' by Jobbo).
To Saturday and post-parkrun, it's time to visit the Blackpool record shops (they've been rinsed of goodies!) and a couple of pre-drinks in the Brew Room before catching Headsticks in the Pavilion (excellent and need to see more of them sometime), 999 in the heaving Empress Ballroom (didn't rock my boat, sorry chaps) and then backstage at the Rebellion Introducing Stage (RIS) to meet and photograph Lady Rage.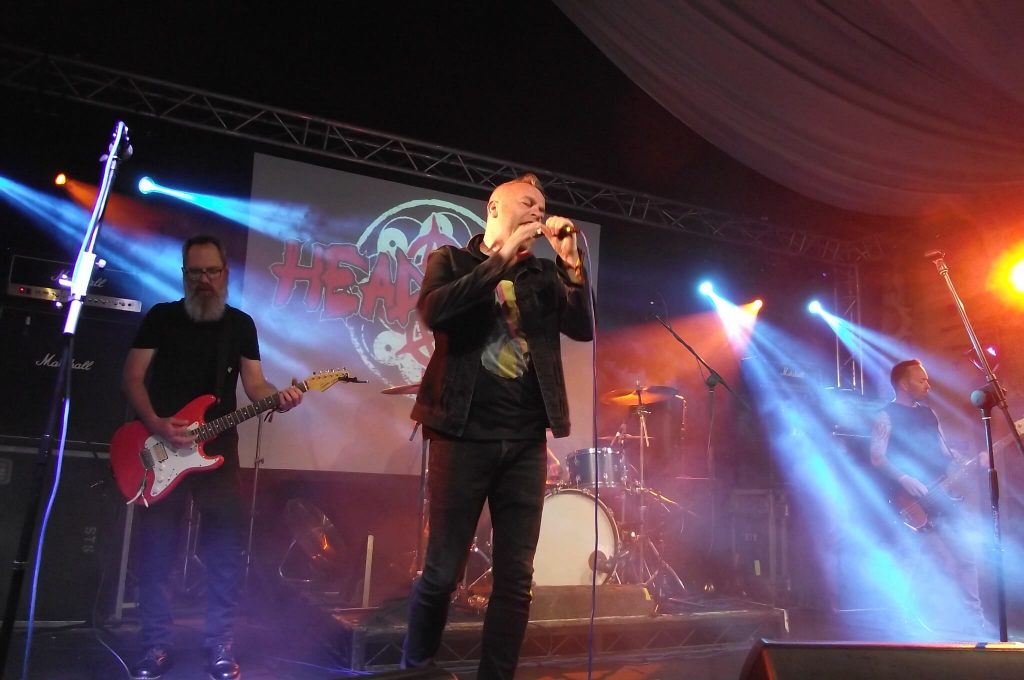 They're a four-piece from in and around London, led by Siren who filmed and edited the video to their new single 'Bit By Bit' on her i-Phone. Impressive as it's a great video – well worth a look here.
With an album coming next year and a fast, heavy, thrashy sound, they go down very well with their audience. It's a packed pit with photographers jostling for space – this band have got a certain something.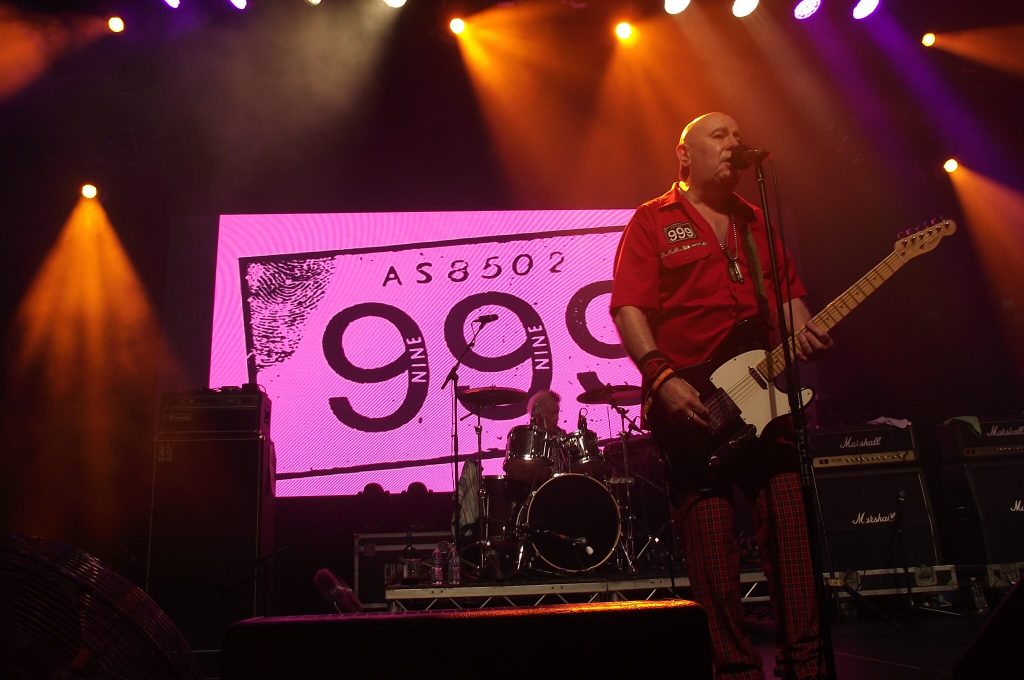 Also, a band with a certain something are the Bar Stool Preachers. I've already mentioned them in my blog, and stay tuned to the site as I'll be posting my interview with them next week.
But we catch them in the Almost Acoustic room, and boy, they rock the place. Only one of the guitars is acoustic!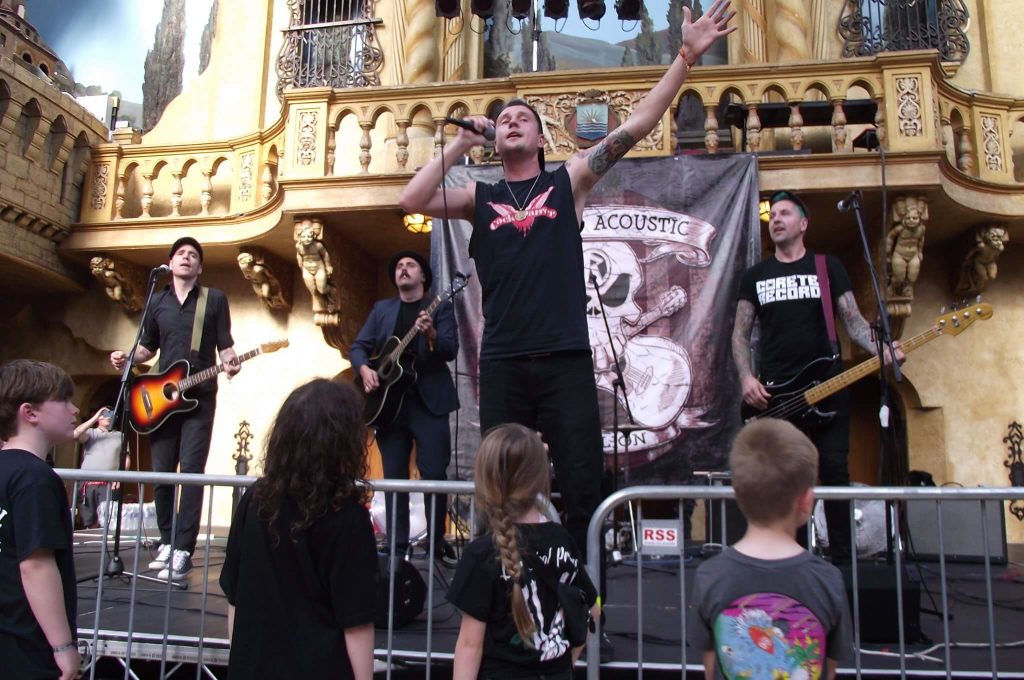 The sprung floor is bouncing as their set gets everyone – very young and very old – on their feet. BSP has been the hit of the weekend for me, and we drag aBomb from Lady Rage to grab a look, and she messages me later to say: 'I'm so happy I got to see BSP they were a huge highlight for me.'
Me too!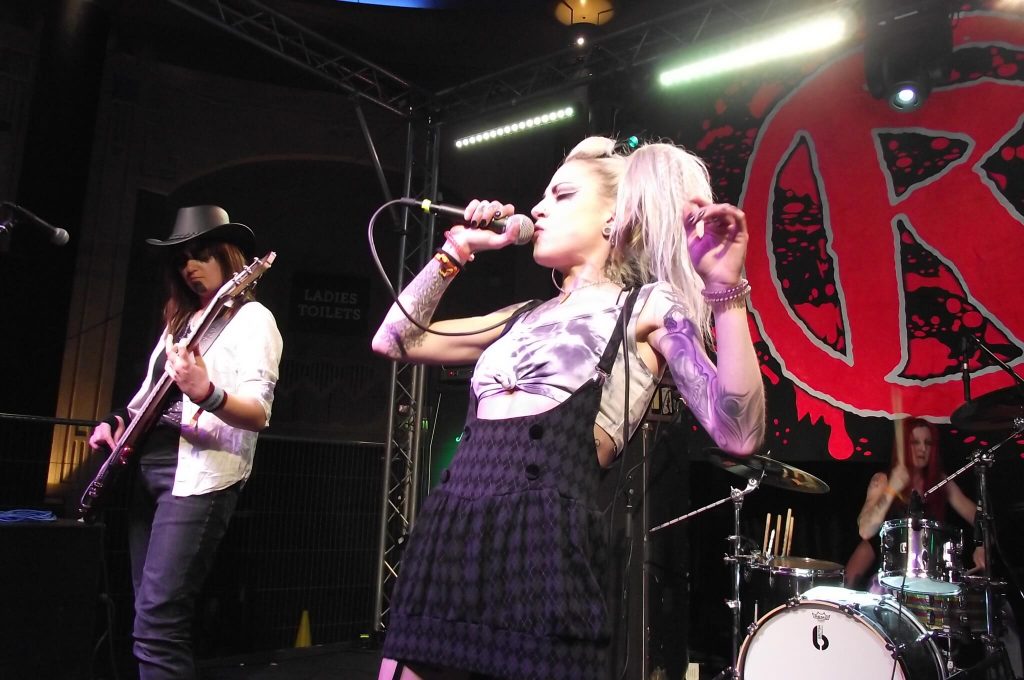 Elsewhere, my friend and fellow Stranglers nut Ruth Rae has been enjoying some different bands.
She saw the Bolokos – who are mixing Caribbean, African and punk. From Guadeloupe, the trio were in the Empress Ballroom with toe-tapping music sung in English and French – impossible not to dance to their catchy rhythms.
Next in the Empress for her were IDestroy, a trio from Bristol. They've released a new album, 'We Are Girls', playing energetic tracks.
The Newtown Neurotics – also in the Empress – combined catchy hooks and political lyrics. It was great to hear their excellent new single 'Climate Emergency' live.
And now it's on to the last leg. Day four. The legs are weary, but the heart is swelling.
---
Get Some Punk In Ya. Follow Rebellion
---
More of the latest in punk right here
I'm Roger Kasper, 55. A punk since October 77 when the Stranglers rocked Top of the Pops with No More Heroes. Journalist since 1983 with stints on national newspapers and magazines and editor of local papers. I'm Gravesend born and dragged up I keep poultry, garden, run and generally make a nuisance of myself!