John Lydon trashes the Eurovision Song Contest just one day after announcing that PiL wants to represent Ireland.
Former Sex Pistols frontman John Lydon has trashed the Eurovision Song Contest just a day after announcing that Public Image Ltd., wants to represent Ireland. 
In an interview on RTE's Radio 1, Lyndon said 'It's absolutely awful, the songs. The whole thing of it is disgusting to me. I'm a songwriter, I perform live, and these shows just come across as so dreadfully phony to me. But look, we're giving it a chance to break out of that mold"
However, after his slagging off of the show, he admitted that he had never watched Eurovision in his life.
PiL has been added to the shortlist of six acts competing for Eurovision glory for Ireland with the song 'Hawaii,' a reflective track that's "a personal yet universal love song that will resonate with many," the band said in a press release. 
The song is dedicated to Lydon's wife, Nora Forster, who lives with Alzheimer's disease. 
Lydon added in a statement, "It is dedicated to everyone going through tough times on the journey of life, with the person they care for the most. It's also a message of hope that ultimately love conquers all."
The heat to determine Ireland's Eurovision competitor will occur on 3 February, when PiL will perform Hawaii on The Late Late Eurosong 2023 Special. The other artists on the shortlist for Ireland are ADGY, K Muni & ND (Kofi Appiah and Nevlonne Dampare), Leila Jane, Wild Youth, and CONNOLLY.
Follow PiL on Their Socials
Need more Punk In Your Life?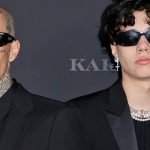 New Releases
Travis Barker's son Landon Barker releases first song 'Friends with Your Ex'
Read More »
I'm a London born and bred music journalist, a mediocre bass player and the occasional strummer of the guitar. In the '80s I worked in recording studios and made a few records you'd probably recognise. I have written a couple of books and made the odd media appearance as a music commentator. I now call Brisbane home.