Aussie pop punks Columbus prove nothing will stop the release of their dynamic new EP.
Lockdowns, floods and whatever else mother nature has up its sleeve doesn't phase Columbus because even though the world has been falling apart, these three interstate best mates have still managed to find the time to write and record their brand-new EP Driving in the Dark out today.
This is not only their first extended release since 2018's A Hot Take On Heartbreak but is also the first EP with Bassist Lauren Guerrera! Having already released the singles Pain Is A Mirror, Temporary Summer and Full Heart it's safe to say that everyone is more than excited to hear the rest of the tracks and don't worry, they do not disappoint.
Recording with Joel Quartermain (Eskimo Joe) in between the Melbourne lockdowns, time was of the essence as a snap lockdown could have been called at any moment, which would have brought their studio dreams to a grinding halt. Rehearsing and recording the EP over only a few days has given it a sense of simplicity which is incredibly refreshing in today's hyper-produced modern rock scene.
You won't find any over the top solos or two-minute-long ambient intros on Driving in the Dark. Instead, you find songs that are straight to the point with no extra fluff. From the moment the guitar comes in on 'Pain is a Mirror' Columbus wastes no time getting to work and this sentiment carries through for the rest of the EP.
This back-to-basics songwriting style allows each instrument to really be heard which results in some soaring choruses with every instrument pumping but also provides some sudden and dramatic drops when the band chooses to leave an instrument out for a verse.
This "full" vs "empty" dynamic helps to set the mood for certain sections of the EP and this, coupled with lyrics that are just begging to be shouted along with, will tug at your heartstrings until that chorus comes back in and makes you feel better.
Lyrically, Guitarist/Vocalist Alex Moses looks inwards on Driving in the Dark and delves into his struggles with love and mental health with him saying that the track 'Full Heart' is about "trying to find love in the dark. You know how you feel, but you don't know where to look".
This EP is a step forward for Columbus and while it may not be as long as their previous releases, it certainly packs just as big a punch and is not something that you want to miss out on. Columbus has just announced their first headline tour in three years starting this April! So make sure you don't miss out on a ticket!
---
Follow Columbus on socials
---
Need more punk in your life?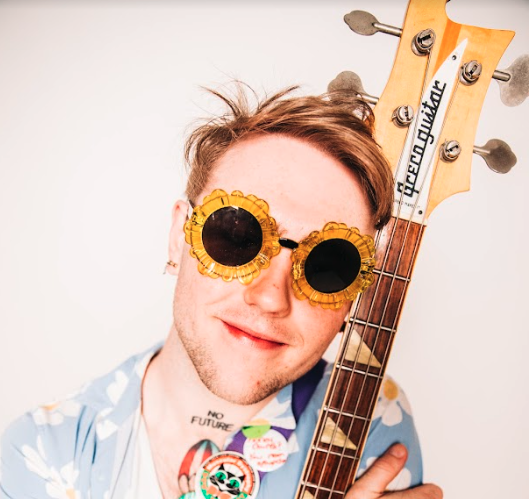 I've always struggled trying to describe myself. How do you sum yourself up in just a few short sentences? Your hopes, dreams, fears, and loves? There are so many layers to a person (much like onions) and words are simply not enough, but they are the only tool we have. That being said…. if I HAD to describe myself, I'd say 3 things: punk rock, tattooing and sunflowers.