What was the best punk gig you've even been to? Did you see L7's stomach-churning performance at the Reading Festival in 1992? Were you at Rock Against Racism in Victoria Park? Punktuation reviews some of punk's most significant gigs…ever!
We're all missing live music right now. The tingly anticipation of being queued up outside waiting to be herded into the venue. The sweaty crush of the mosh pit. The sticky floors of the toilets….oh and the music as well.
But with the exact future of live performances still under a bit of a question mark, we may not be able to scratch that itch anytime soon. So, in the meantime, let Punktuation take you down memory lane to revisit some of the most pivotal, significant and downright notorious punk gigs of all time!
The Clash – Bonds International Casino, May -June 1981
The Clash were in America promoting their 4th album Sandinista and there was such a buzz about them playing, they had to play an exhausting number of back-to-back shows just to satisfy fan demand.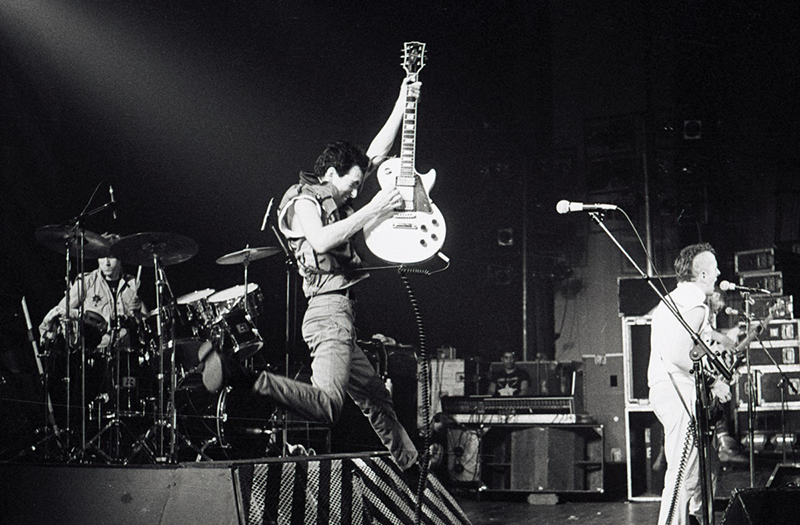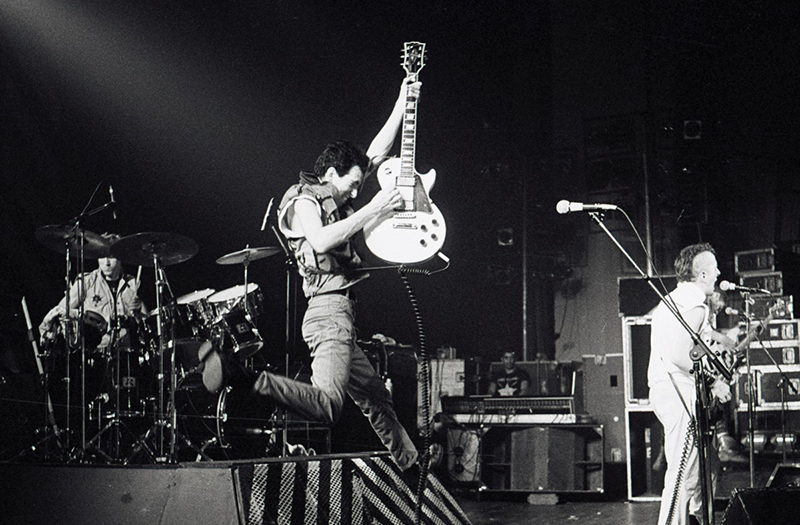 The band were originally only due to play eight shows in the city but due to the New York Fire Department declaring the number of tickets sold as unsafe, they had to double the amount of shows to play to the number of fans who had bought tickets.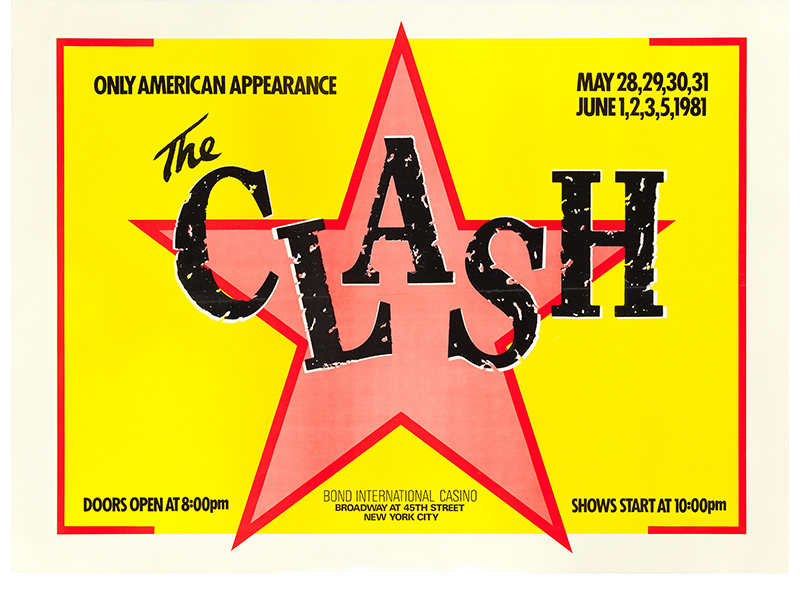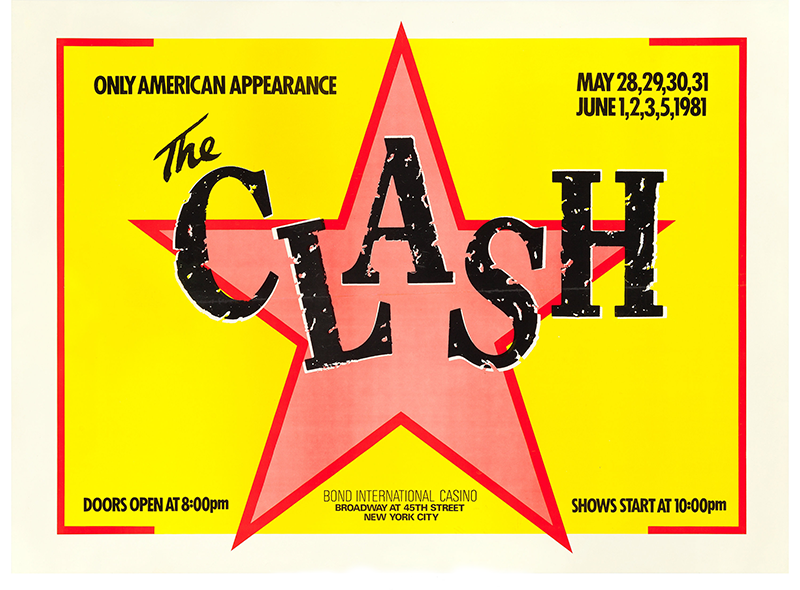 This incident demonstrated the integrity and morality that made the band such punk heroes. They denounced the greed of the promoters and vowed to play however many shows were needed to make sure every fan got to see them. Strict interpretation of the fire laws meant that audiences were relatively small, resulting in a sense of intimacy between the band and the audience. There was a real camaraderie and sense of collaboration between the Clash and the gig goers with many fans being encouraged to climb onto the stage to singalong.
There was a new opening act for every night which showcased the developing tastes of the band as they run the gamut from hardcore punk to innovative hip hop with acts such as Dead Kennedys and Grandmaster Flash.
---
Sex Pistols – Winterland Ballroom, 14th January 1978
This was the last gig played by The Sex Pistols with the line-up of Cook, Jones, Vicious and Rotten (they would of course re-form in 1996, with original bass player, Glen Matlock, replacing the late Sid Vicious).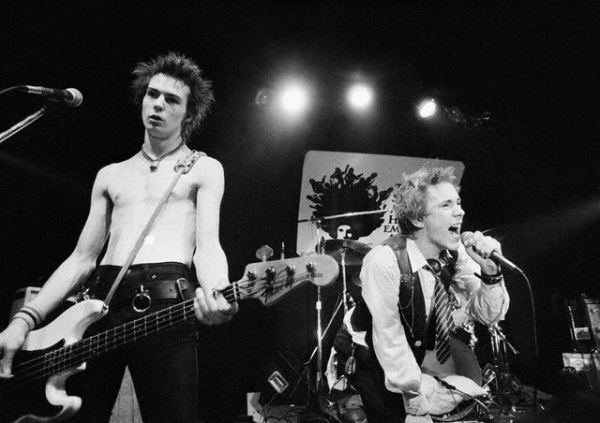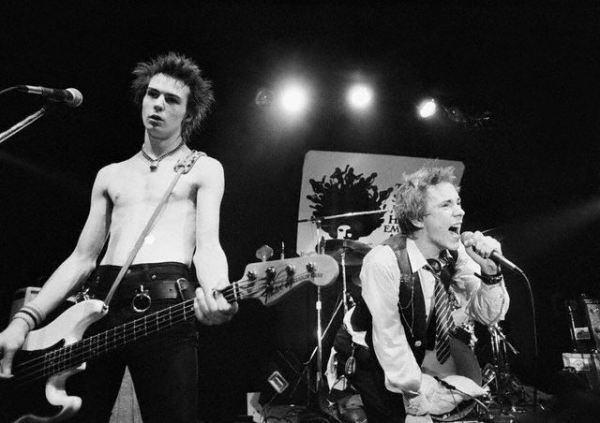 The writing was clearly on the wall for the band prior to the 1978 gig as relations fell apart – Rotten barely on speaking terms with the other members and Sid in the grips of the heroin addiction that would ultimately lead to his death less than one year later.
The choice of venues throughout their US tour was unconventional – manager Maclaren felt there would be more of a spectacle to have the band play across small venues in the conservative Southern states. The sound was awful, the audience bemused, Rotten's voice about to give up. Steve Jones said in Jon Savage's book England's Dreaming; "At Winterland, I had a cold. Sid wasn't playing a note, and he wasn't even plugged in half the time. Me and Paul just wanted to play. I kept cutting out, strings breaking left, right and centre".
Footage is available of the final moments of the band's performance of the Stooges' track 'No Fun' where Rotten utters his famous last words: "There's no fun in being alone. This is no fun. It is no fun at all." When the song ends, he famously asks the crowd, "Ever get the feeling you've been cheated?" It would be 18 years before he performed as a Sex Pistol again.
---
Green Day – Woodstock 1994
Green Day were on the cusp of greatness in 1994 – not quite catapulted to the top of the pop-punk movement but getting there. Their breakthrough album Dookie had already been released at the time of their appearance at Woodstock but was climbing the charts at a glacial pace. As a result, they were given a bit of a naff slot on the Woodstock '94 roster- the South Stage, during the afternoon of the final day of the festival.
The crowd they attracted were younger, livelier, and more sodden than those for the previous bands, due to the rain that had soaked the festival that morning.
When fans began throwing mud at the stage, frontman Billie Joe Armstrong decided to join in and a huge mud fight between band and audience ensued. Things got chaotic- an over-zealous security guard mistook Dirnt for a stage invader and duly smashed his front teeth out. Armstrong pulled down his trousers and the whole spectacle became one of the most memorable performances of an otherwise quite lacklustre occasion.
Within three months, Dookie was at number four in the charts and the band's meteoric rise to fame began.
---
---
L7 – 1992 Reading Festival and 'The Word' TV Appearance
During a performance at the 1992 Reading Festival things rapidly went downhill for L7 when the band apparently started to experience technical difficulties with their audio equipment forcing them to pause their set.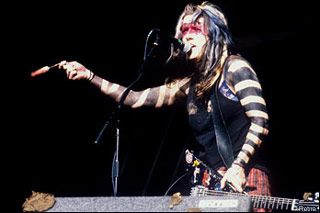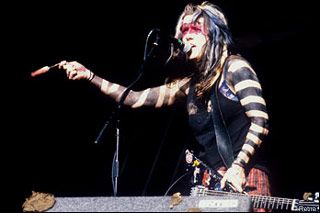 The crowd started to grow restless and began pelting the band with mud. In retaliation, the L7 vocalist Donita Sparks pulled her tampon out on-stage and threw it into the crowd screaming "Eat my used tampon, fuckers!"
Even though the incident has been referred to as one of the most unsanitary moments in rock history, Donita has refused to apologise. "If you come to Reading next year, " she told journalists after the performance, "I'll give birth on stage and eat the placenta"
Later that year the band appeared on live U.K. TV music show, The Word, and again caused controversy. While they performed Pretend We're Dead Donita Sparks pulled down her trousers and knickers and treated the studio audience and the viewers at home to some full-frontal nudity. If anyone in the UK was unfamiliar with the band up until that point, they certainly weren't after this notorious TV appearance.
---
Black Flag – Peppermint Lounge, 1981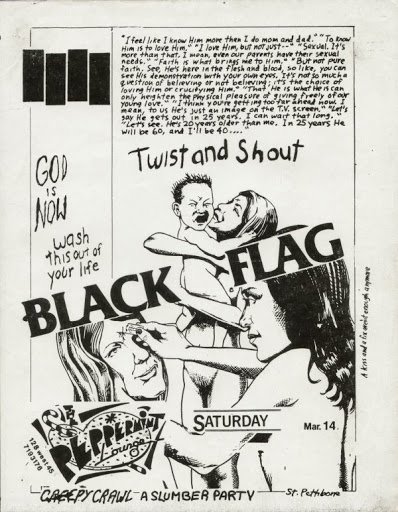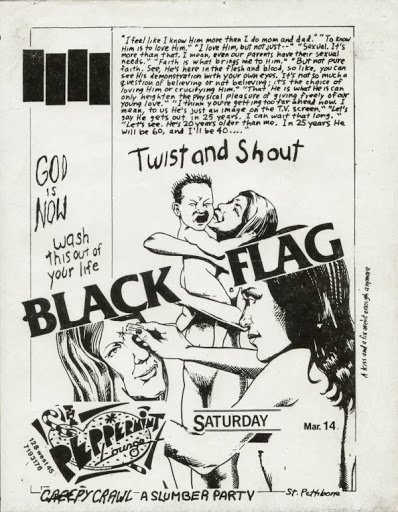 This was Black Flags first show in New York and for many New Yorkers it was their first exposure to the band's particular brand of punk! The gig was by all accounts a bit of a shock to the system for the artsy New York punk scene – especially when the Hardcore punks from Washington DC made their presence known.
The punk crowd from DC started a chant of 'Georgetown punks' (Georgetown being a punk hub in Washington DC) before they charged into the New York audience and started a full on brawl.
Black Flag loved it and those there said the energy of the band and the show was electric. So electric in fact, it inspired some of the attendees to start their own band they named… The Beastie Boys.
---
Rock Against Racism – Victoria Park, 1978
A gig, that was infamous for all the right reasons this time; Rock Against Racism (RAR) in London's Victoria Park – a key event in the history of punk's anti-racist activism.
Shocking racist comments by Eric Clapton in 1976, as the far-right National Front were starting to gain more votes at ballot boxes across the UK, made it clear that those who were disgusted by these events needed to take action.
Rock Against Racism was a grassroots campaign that developed as punk was gaining success in the UK and many influential punk musicians were part of the RAR Festival in Victoria Park on 30th April 1978. Huge numbers of fans turned up from all corners of the country with coaches bringing people from Glasgow, Sheffield, Manchester amongst others.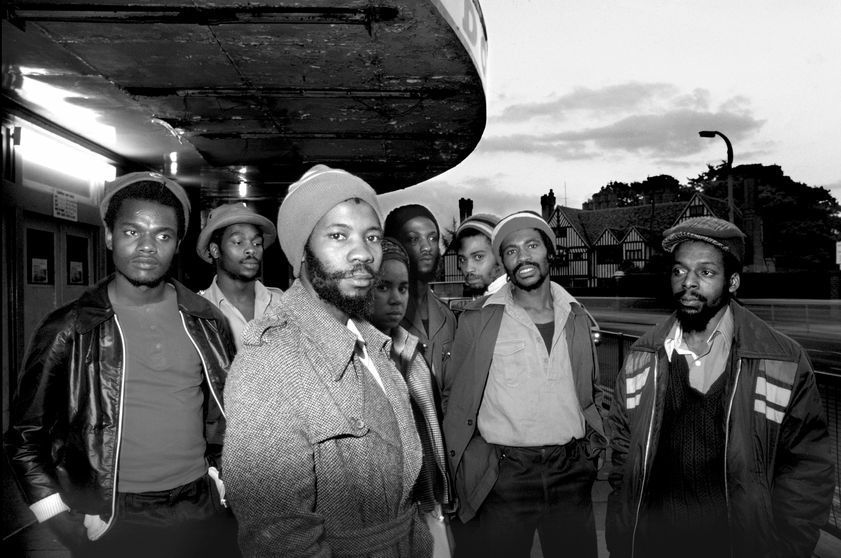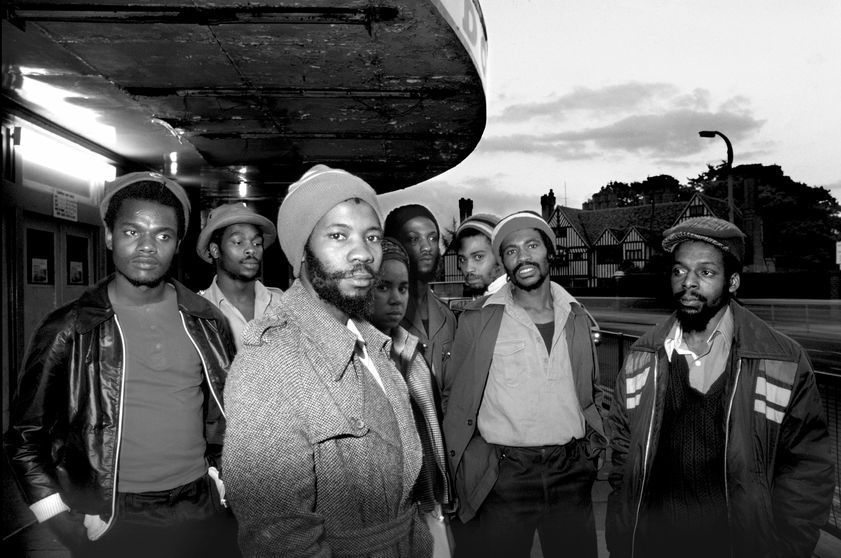 RAR brought together punk and reggae bands, and fans of both, starting a tradition of multi-racial lineups at RAR concerts into the 80s that featured X-Ray Specs, the Ruts, the Slits, Generation X, Elvis Costello, Steel Pulse, Aswad, and Misty in Roots, among many other. This concert showed that music has a role to play in making a cultural and political stand and many claim that this concert galvanised a generation.
---
Plasmatics, Palms Nightclub, Milwaukee, 1981
In a long and impressive list of punk women, few are as cool and crazy as the late Wendy O. Williams, front woman of the Plasmatics.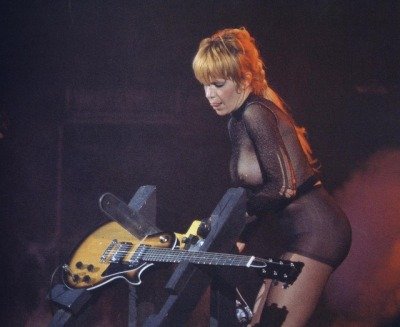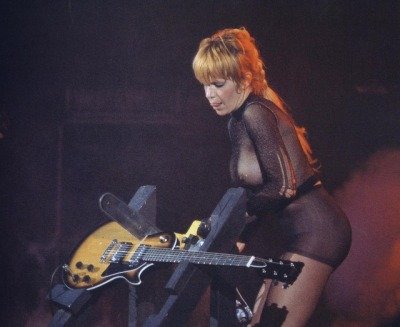 Famed for her 'next to nothing' fashion-sense, taking chainsaws to guitars and blowing up things on stage, Plasmatic gigs were always crazy, chaotic affairs. However, on the night of January 18 1981 a Milwaukee police officer was not impressed with Wendy's on-stage shenanigans.
After taking to the stage at the Palms nightclub, Wendy proceeded to give a little mock fellatio to the handle of a sledgehammer before simulating masturbation with it. Moments later she was taken down violently and beaten by a police officer and later slapped with obscenity charges. However, when word and photographic proof of her violent arrest came to trial, the obscenity charges were dropped.
---
---
Jayne County and The Electric Chairs – CBGB's 1976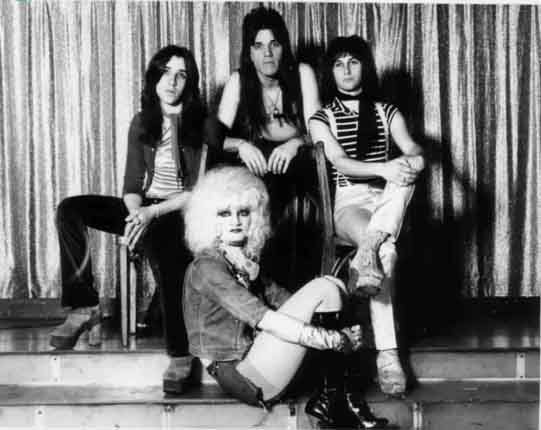 There were two punk venues in New York in the mid 70'S CBGB'S and Max's Kansas City and at the time it was important to pick a side. "Some people were Max's people, some were CBGB people," transgender Jayne County explained to Rolling Stone magazine
"There was a lot of competition between Max's and CBGB's," County continued. "I got along fine with people in both scenes. Though there was definitely a bit of homophobia running through the CB's crowd. More of the gay community hung out at Max's, but it wasn't a gay place: It was a place for artists, and was accepting of all types of people. But CBGB was a place where everybody was trying to prove how tough and rough they were"
The tension between the clubs came to a head in June of 1976 Jayne County (then Wayne) was wrapping up his parody of Patti Smith at CBGB's when a disturbance erupted. Reporting the incident Cream magazine said: 'All that the participants will agree upon is that Handsome Dick Manitoba of the Dictators was at one time or another on the stage, that he said "things" to Wayne, that some mention of "spit" was made, and that Wayne smacked Manitoba's with a microphone stand. After that a full-scale brawl ensued; Manitoba's collarbone was broken and Wayne County ended up spending a day in jail.'
Over the decades there has been much 'he-said-she-said' about what really happened on stage that night, but nevertheless, Jayne County could have become 'the punk who killed someone on stage!'
What are your most memorable punk gigs? Which ones have we missed? Let us know in the comments!