New Jersey punks present new track from upcoming second album
If you like your punk served hot, fast and sweaty, look no further than this ruthless outfit, Doc Rotten. The four-piece from Trenton, New Jersey have been together since around 2017 and consists of Wes Bentley (vocals/guitar), AJ Martinez (drums), Andy Keris (lead guitar), and Doug Pombo (bass).
After playing a few live shows together and establishing their sound they went on to record their debut EP 'Fallout', then followed up with their second EP, 'Sick and Suffering', six months later. By the time they moved onto their third offering in 2018, the self-financed full-length debut album 'Illusion To Choose', they were touring all over the world, including Japan, Europe, and Canada.
Fast forward to 2022 and after recording their second full-length album we are teased with videos for the title track 'Unite Resist' and 'Psych Ward 103' and now new single 'Corpses'. The upcoming album 'Unite Resist' was produced, engineered, and mixed by Pete Steinkopf of The Bouncing Souls and will be out on March 25th.
Frontman Wes Bentley had the following to say about the new single"The song 'Corpses' is about how we live in a society where we are forced into a fiat monetary system, essentially making us zombies to spend our finite time in this reality on a thought obstruction that is fiat currency."
The band will host their record release party at The Fire, Philadelphia on Saturday March 26th with The Bad Ups, Diamond Dogz and Side Pocket Louie.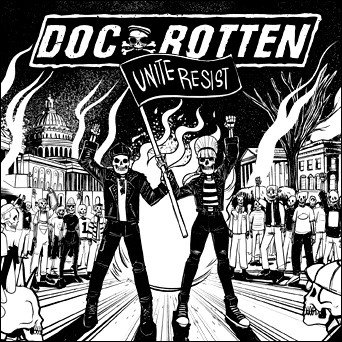 ---
Follow Doc Rotten on their socials
---
More of the latest in punk right here