'West German' Punk Legends Die Toten Hosen and 'East German' rapper Marteria are to release their singles "Shit Westernes' and 'Shit Easterners' on the same day, highlighting the continuing prejudices between East and West Germans 30 years after the fall of the Berlin Wall.
According to Die Hosen lead singer Campino, the two new singles 'Scheiß Wessis' (Shit Westerners) by Die Toten Hosen and 'Scheiß Ossisis' (Shit Easterners) by Marteria, are about "something that has occupied us for a long time: How is it that, more than 30 years after the fall of the Wall, there is still a heap of prejudices between East and West Germans? Why do we still speak of East and West Germans at all?"
"When we recorded the songs three months ago, the world was different," Campino says. "With the start of Putin's war of aggression against Ukraine, nothing is as it was before. Maybe that's why our theme has moved a bit into the background, but these songs are also a plea for growing together, for what we have in common and friendship."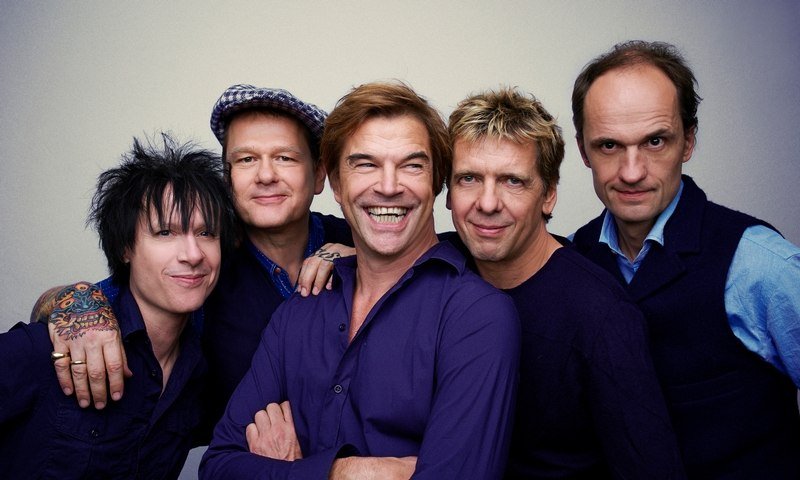 The Düsseldorf punk band, which head out on the road with its "Everything out of love – 40 years of the Toten Hosen" anniversary tour in June, releases its single with the provocative title "Scheiß Wessis" on March 25th. The single's cover has a dark green background and federal eagle, reminiscent of the passport design of the former Federal Republic. The song will be available for download and streaming. The 7″ single, limited to 4,000 copies, could also be pre-ordered but sadly is already sold out.
On the same day, the Rostock rapper Marteria will also release his new single, "Scheiß Ossis". The single cover, also teased on Instagram, has the GDR 'blue zone' passport feel with its hammer and compass logo.
Marteria has been good friends with The Trousers' Campino for several years and has occasionally co-written the Toten Hosen lyrics, and Campino was a guest on the song "Die Nacht ist mit mir" from Marteria's 2014 album " Zum Glück in die Zukunft II".
"Everything out of love – 40 years Die Toten Hosen" – tour dates

06/10/22 Cologne – RheinEnergieSTADION – sold out
06/15/22 Rostock – IGA Park
06/18/22 Munich – Olympic Stadium
06/24/22 Düsseldorf – Merkur Spiel-Arena – sold out
06/25/22 Düsseldorf – Merkur Spiel-Arena – sold out
06/30/22 Kassel – Auestadion
02.07 .22 Vienna – Krieau Open Air
09.07.22 Großpösna – Störmthaler See (near Leipzig)
14.07.22 Hamburg – Open Air at the Volkspark
16.07.22 Stuttgart – Cannstatter Wasen – sold out
17.07.22 Zurich – Letzigrund Stadium
20.07.22 Locarno – Moon&Stars
23.07 .22 Freiburg – Messeplatz
24.07.22 Mannheim – Maimarktgelände
20.08.22 Berlin – Tempelhof Airport
27.08.22 Bremen – Bürgerweide – sold out
03.09.22 Konstanz – Bodensee Stadion
10.09.22 Minden – Weserufer Kanzlers Weide – sold out
---
More Die Toten Hosen
---
More Punk Stories….
Punktuation Magazine For All Your Daily Punk News, Features, Interviews, Lifestyle and more!