Melbourne punk rockers release their long-awaited album 'Return To Mars' and gear up for East Coast Tour.
Grabbing you from the opening vocals of Rat Detective and refusing to let you go until the final singalong chorus of Return To Mars, Melbourne punk-rock five-piece Captives thrill on their sophomore album.

Lyrically on Return To Mars, the band lean into various themes about power, relationships, greed, living through the boredom of a pandemic in Melbourne, all the while showcasing why they are festival favourites with classic pounding drums and electrifying guitar riffs.
Return To Mars features the dark and melodic Buried & Bones, furiously energetic Villain, anthemic track Gold and their new rock anthem, Miles Away. The album came to life at The Alamo Studio in Melbourne. It was produced and mixed by Tyson Fish (Vance Joy, Mammal, Children Collide) and mastered by Forrester Savell (Karnivool, Cog, Shihad). 

The last two years were difficult for all and sundry, with the music industry being hit hard due to the pandemic with events being postponed or cancelled, but Captives took the opportunity to write new songs. 
"Return to Mars' was a very strange experience for us. One minute we were touring all different parts of the world in all these really cool places, and the next, we were confined to our lounge rooms for what felt like the best part of two years. In one way, it was a great time to slow things down and really work on something a little different in our songwriting because we had all the time in the world to do it." says Aaron Damon (Vocals).
"For me personally, it was about digging a little deeper and trying to find not only the words but the courage to deliver and share those words with people, which I think is what truly makes a song great and something that people can really connect with, and until now I don't think we ever really had much of that," continued Damon.
At the same time, we wanted to leave some of those hard-hitting Captives elements for which the band is renowned. The album is a real mix of the old and new, but we had a lot of fun in the studio making the album, and we want to say a big thanks to everyone involved in the process and the fans for sticking by us. We hope you enjoy the record and can't wait to bring it to a town near you."
Captives have been building a formidable presence for themselves. Across the release of two EPs and a full-length album, they have accumulated some serious playlist momentum and tour support for bands. These include The Damned, Pulled Apart By Horses, Cog, Shihad, The Mark of Cain and The Hard-Ons.
With their songs designed to be sung by festival crowds, the band will be touring the east coast of Australia, including Adelaide, in April and May, with fans getting the opportunity to hear the new material live and up close. Captives have also just been announced on the bill with hard rock legends: Grinspoon, The Butterfly Effect, British India, Bodyjar for the Wallapalooza Festival, Gold Coast on May 7.
CAPTIVES TOUR DATES


Tickets
2 APRIL, HALLOWEEN HYSTERIA, BRISBANE
9 APRIL, THE VANGUARD, SYDNEY
16 APRIL, CROWN AND ANCHOR, ADELAIDE
23 APRIL, GASOMETER HOTEL, MELBOURNE
29 APRIL, MO'S DESERT CLUBHOUSE, GOLD COAST
7 MAY, WALLAPALOOZA FESTIVAL, GOLD COAST
Return To Mars is out now!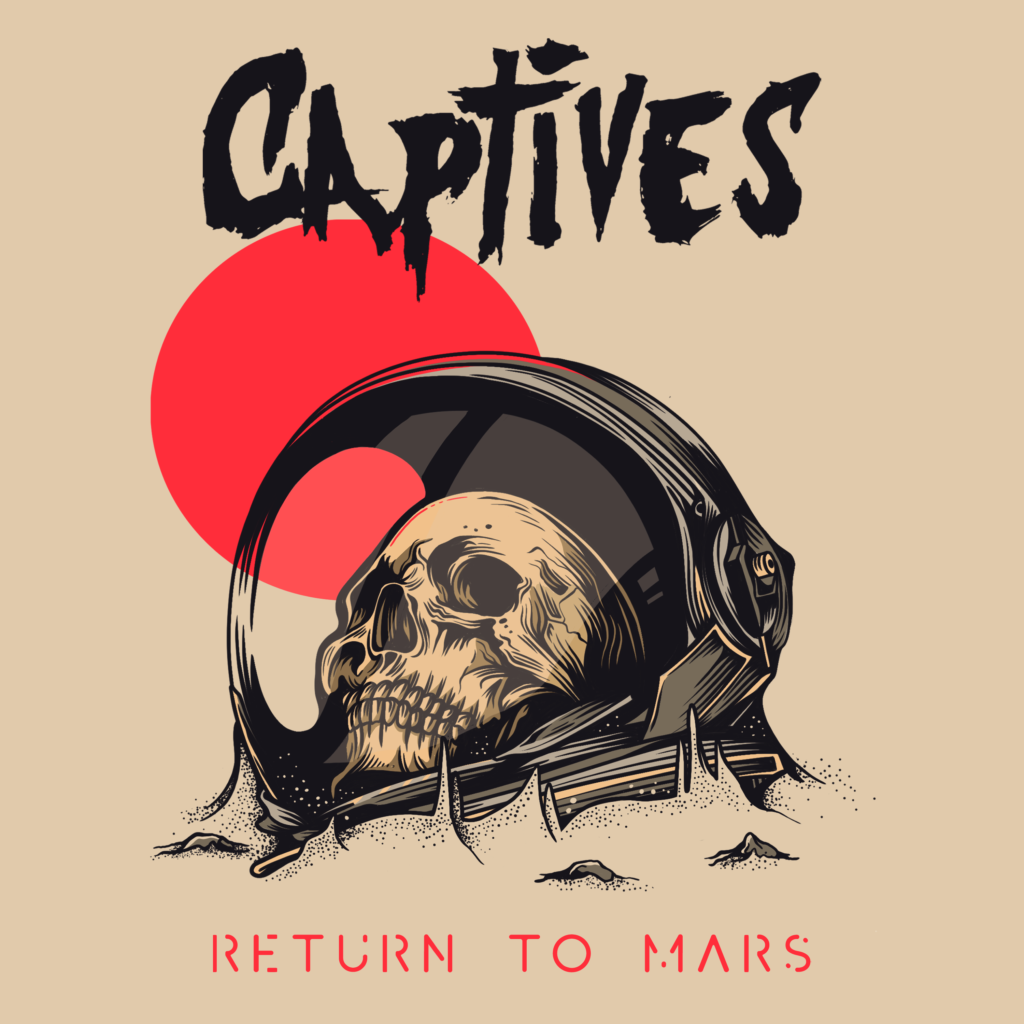 ---
Follow Captives for more…
---

More of the latest in punk right here
Punktuation Magazine For All Your Daily Punk News, Features, Interviews, Lifestyle and more!