As Punktuation! guest writer, Andy Gray discovered, the gloriously straight-talking Manc has a few choice expletives for anyone who thinks the Buzzcocks should have been buried with his old bandmate!
Following Pete Shelley's death in December 2018, it left guitarist Steve Diggle as the Buzzcocks' sole original member. But rather than throw in the towel, the self-titled riff master has committed to keeping the band alive.
With an album of new songs planned for 2021 and a live 'best of' compilation due for release in January, Mr Diggle – one of punk's most renowned bon viveurs – has much to keep him out of mischief.
Late for the Train is a 32-track, five-CD compilation of live and in-session Buzzcocks music from 1989 to 2016. There must have been a fair amount of archive to sift through. Were you involved in that process?
"No. They, the record company, just sent me the finished track-listing and that for approval. I didn't particularly want to get involved in tracking down recordings via studios and God knows what else. I just had to listen to the stuff."
What thoughts sprung to mind when listening back to those tracks from the Buzzcocks' post-reformation era?
"I think the album shows how good the band was, and how good those late-80s songs were. People know our early stuff cos it got a lot of coverage, but this album highlights a bit of what we were doing in the latter days. Listening to the tracks conjured up a load of memories of that particular time in the band's history."
The Finsbury Park gig supporting the reformed Sex Pistols in 1996 sounds fierce – you were most certainly 'on it'. Do you have any memories of the day itself?
"Well, we always are up for it when we play live. We brought the Sex Pistols to Manchester in 1976 – we opened up for 'em. Then suddenly, they got back together for a tour and we're on the bill again; it was like things had gone full circle. There was a lot of anticipation to see the Pistols…and us. The crowd and atmosphere were electric. I think Stuart Pearce and Gareth Southgate (former England footballers) introduced the Pistols. Stuart Pearce is a big Buzzcocks fan. He's been to a few of our gigs and loves his punk."
You're a mod, yet a guitarist and songwriter in one of the world's greatest punk bands. How did that come to pass?
"I had a scooter way before punk. In fact, I had three scooters in my collection at one time – people kept selling 'em to me so they could buy heroin (laughs). Then, when I was about 10-years-old, I heard The Who, then bands like The Beatles and the Kinks. So in the swinging '60s, they became my influences. I was gonna form a band like The Who; do three-minute songs and smash the equipment. But as it 'happened, I met Howard (Devoto) and Pete (Shelley) who were a bit more punky-looking, so I just kind of got on board with that.
Speaking of smashing-up guitars. Is it true you taught Kurt Cobain how to trash TV sets, which became a stage trait of yours when the Buzzcocks toured with Nirvana in the 90s?
"I told him how to do it properly without getting an electric shock. On tour, I've smashed TVs all around Britain, Europe and all across America. I became an expert. I nearly died one night, though. If you hit the wrong component it can be fatal."
So, what's the secret to smashing a TV set for maximum stage effect?
"As I explained to Cobain, it's about swinging the microphone and releasing it at the precise moment so it hits the middle of the TV screen with a 'ping'. Then it implodes, smoke goes up and it looks fantastic. But if you just clumsily swing it at like you're swinging a pickaxe or something, you're just gonna break the glass and it won't explode. It took me a little while to learn that."
"I've smashed TVs all around Britain, Europe and all across America. I became an expert. I nearly died one night, though. If you hit the wrong component it can be fatal." Steve Diggle.

Tweet
With my health and safety hat on here, I somehow feel a need to ask: were the TVs actually switched on when you smashed them?
"They were always switched on during the show, but I switched 'em off by smashing 'em (laughs). Kurt Cobain told me he'd only ever smashed one TV set. I told him you ain't fucking lived, man."
As a child of the pre-punk, musically-bereft mid- '70s, I remain envious of people like yourself who a decade earlier, were of an appreciative age to hear some of our greatest bands at their creative peak.
"I do feel really blessed. Although, there was also a load of crap on the radio when I was I kid with programmes like 'Children's Favourites', which played comedy records by people like Charlie Drake and Rolf Harris.
"But then I heard Love Me Do by the Beatles in 1962. I was seven-years-old and was like, 'What the fuck is that'? On the back of that, I bought the Beatles' Twist and Shout EP. So that, along with the fact that a girl across the road from me had the first Beatles album and the first Bob Dylan album, meant from the age of seven I was primed for 'it', so to speak.
"That's why I was a mod, really. It was the swinging sixties: the polo neck Beatles' jumpers, Levi's, Oxford shoes…Then, when I got older, I bought the scooter and started listening to a lot of soul music and all that. I've always said I was so fucking lucky to have been just about old enough to receive the birth of all that great music. One week it'd be, 'Oh, the Kinks have a got a single out', then the next week The Who would release one, then The Beatles or the Stones. So as a kid, I was being hit with all this amazing stuff, which still stands the test of time."
I always thought, with the paisley shirts, scarves and that very sculptured hairdo of yours, that you look more suited to The Jam than the Buzzcocks.
"(Laughs) I used to transfuse my look a bit between mod and punk to kind of blend in. It was like Ringo said in A Hard Day's Night when asked if he was a mod or a rocker: "I'm a mocker,'."
Are any current bands, singers or songs doing much for you?
"Not really. I think Sam Fender and stuff like that's alright. But some of the punk bands…it's like, come on, I saw the fucking Sex Pistols and The Clash. Those new bands are having a fuckin' laugh – they've got no fuckin' class or style about 'em. I notice one of those new bands goes on stage in their fuckin' underpants. It's like; I grew up in the fuckin' sixties when people had fuckin' clothes. I don't wanna see a pair of balls when I go to a gig."
"…it's like, come on, I saw the fucking Sex Pistols and The Clash. Those new bands are having a fuckin' laugh – they've got no fuckin' class or style about 'em." Steve Diggle.

Tweet
Iggy Pop didn't mind exposing his balls – and more besides – on stage.
'Yeah, but he's American, so he's forgiven. But the punk era was similar to those sixties days in some ways. You had a rush of all these great singles and albums by the likes of us, The Clash, the Pistols, The Jam and The Damned, which was pretty amazing, looking back."
OK. We've spoken about the retrospective Buzzcocks releases due in January; when can we hear an album of new stuff?
"We did a single before last Christmas: Gotta Get Better/Destination Zero. We wrote it really quickly so we had something new to play on a US tour, which was subsequently cancelled cos of Covid. I've got enough material now for about two albums, which we're gonna record maybe after Christmas. So the record will be out sometime in the New Year."
Who's going to play on it?
"I'll probably do the guitars and vocals, with Danny (Farrant) on drums and Chris (Chris Remington) on bass."
No (guitarist) Mani Perazzoli? He played a few of the Buzzcocks live shows in 2019.
"Mani's 35 years younger than me and I'm the fuckin' riff master in the Buzzcocks (laughs). I've come up with loads of riffs, and they're very unique – you can't teach 'em. But Manni's a great asset when we play live. He's part of the team."
Are you still living in Highgate (north London), where one of your musical heroes, Ray Davies, is also resident?
"That's right. I've lived there for the past 30 years. The first time I saw Ray I was walking around Highgate Village just up from where I live and I thought, 'That's fuckin' Ray Davies!'. I've had many drinks with him since. Liam Gallagher, another reprobate Manc like me, also lives around the corner. I've had a few drinks with as well."
I presume lockdown has put a stop to your celebrity hobnobbing, what with the pubs being shut.
"They're doing takeaways. So you can get a two-pint jug and sit and drink it on a park bench outside."
Like a storybook vagrant? (No offence intended to any party – I've been there myself)
"Yeah (laughs). Like an old dosser. That's what life's come to."
I love the fact that you've never hidden your love of drink, drugs and the rock and roll lifestyle. A lot of punks frowned upon such behaviour as being representative of 'dinosaur' bands – Led Zeppelin, Pink Floyd etc – from previous eras.
"When we started and playing alongside bands like the Pistols, there were no rules. Then suddenly, people were making rules for us. We were there at the start of the scene, and then along came these others who started telling us how punks should be behaving. I never said punks weren't allowed to party."
The Clash took themselves and their politics very seriously. 'Partying' didn't appear to be a part of their manifesto.
"I've spent nights in hotel rooms with Mick Jones and Joe Strummer. Believe me; their off-stage behaviour was completely at odds with how they presented themselves (laughs). When I first met Pete Shelley I realised he liked a drink – much to the chagrin of the other two band members. They'd come for one pint, but me and Pete would end-up having about eight. That's why me and Pete got on – we both liked a drink. We spent a lot of time in pubs, which I used to say was Manchester's version of the way existentialists used to sit outside of bistros in Paris.
"We'd pontificate about stuff like philosophy and argue about all sorts of ridiculous things; it was part of pub culture. A lot of that culture comes out in Buzzcocks songs. The records sound like we're talking to you, not bullshitting you or trying to talk down to you like some sort of rock star who thinks they're on a higher level
"But yeah, the partying, cocaine and all the girls…When you're 21-years-old and had been skint until that point, I'd defy anyone not to go for it all. It was excess and it was fantastic fun. But we still got up the next day and wrote the songs and did the gigs. Even if I hadn't slept for days, I still had all the energy when I went on stage."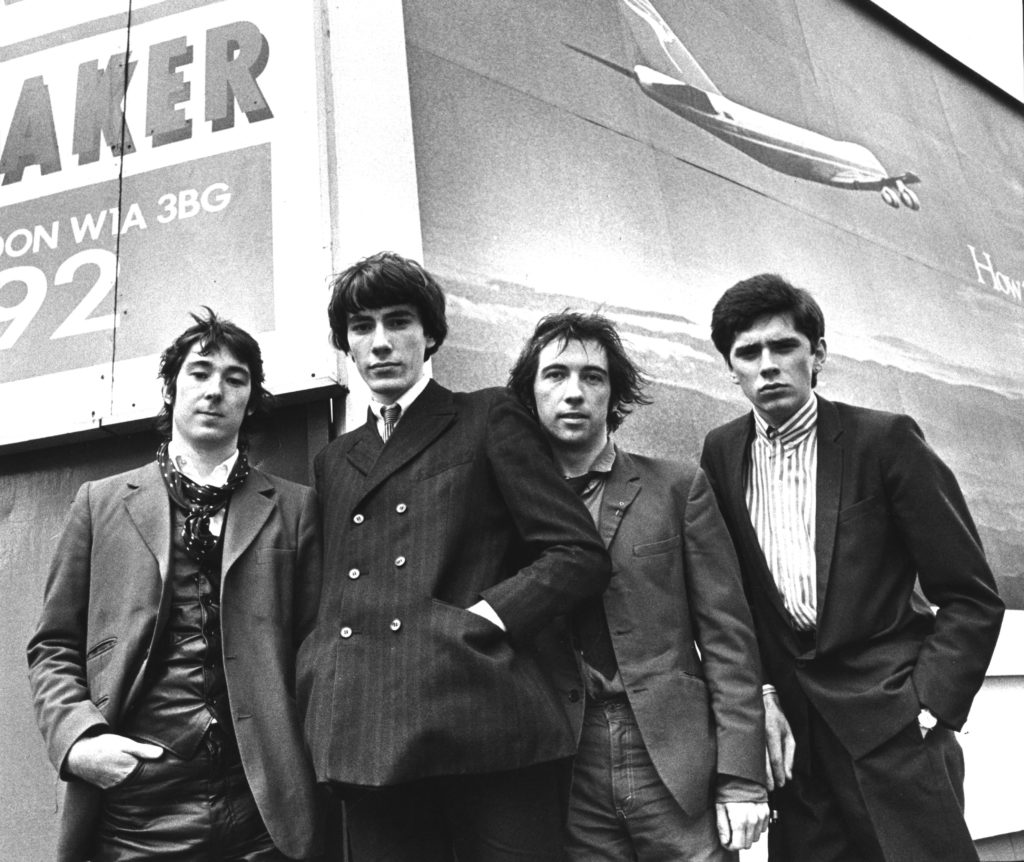 Diggle legend has it that you partied for 11 days without sleep. How are you still alive?
"That's right, in America. That's crystal meth for ya (laughs). You can take that stuff and be awake for 24 hours without noticing. It was in the late '90s or some time. It's not recommended when you have to go out to thousands of people every day. I've gotta behave a bit now, though. (With the Buzzcocks) right from the beginning, it was a case of 'Bring on the music, bring on the drink and drugs, and bring on the girls'. But you've got to be strong, you've gotta have the constitution for that lifestyle. I realised I had the strength of 10 indie kids; you know, those little weedy ones who put their head down and stroke their guitar like a fuckin' baby."
As a change of tact, what are your feelings on the coronavirus situation?
"It's fuckin' tragic. It's not something anyone saw coming. I'll tell you what was weird, though. I bought the H.G Wells book, The Invisible Man, which is about a bloke who has to cover himself in bandages to become a physical being, when I went to Greece earlier in the summer. So to come back to the UK and see everyone wearing masks it was like, 'Fuckin' 'ell. Every character in that book has come to life'.
I'm guessing, as a something of a social animal, lockdown was drag for you. Did you spend it alone?
"I've been with the same partner for 20 years now so no, I wasn't alone. But during the lockdown, I was grounded like everybody else. I've got some music gear in my shed, so I just sat outside it in the sun and wrote a load of songs. What else could I do? Nothing was open, nothing was doing. You'd walk into the street and it'd be like a scene from 1984 – people crossing the road to avoid coming into contact with you. There was fear in people's eyes; everywhere you went they looked terrified."
A lot of my mates turned to drink to quench lockdown boredom. How about you?
'I'd work all day on my music and then at 4 o'clock I'd go to the pub (when they were allowed to open). But I'm one of those who once he's in, can't get out. I actually stopped drinking for a little while cos I'd overdone it. I was blowing my heart up, so I had to step off the gas for a bit. The thing is, I got really healthy and it made me feel ill. I thought, 'fuckin' ell, this feels too normal'. As soon as I had a bit of gear and a cigarette, the next day I'd be able to play the guitar like I used to. Being ultra-healthy doesn't go hand-in-hand with rock and roll. You've got to stay a bit agitated."
You're 65 Steve, but nowhere near retiring. Musically, does one burning ambition remain?
"There probably is somewhere. My next mission is to make a great Buzzcocks album. Me old mate Pete's not here now. I've been through the hardship and the pain of all that (Pete's death). I've gotta move on. During the First World War, they said if a man goes down you can't help him – you've gotta carry on. And that's what I've got to do."
How were the post-Pete gigs received in December 2019?
'We did eight shows. I imagine a few people thought it wouldn't be the same (without Pete). To which I'd have said, 'Well, of course, it fuckin' won't'. But like I said in an interview before the Newcastle gig: "Don't fuckin' come if you're not going to be positive." I don't wanna hear people saying, 'Oh, it's not right without Pete Shelley'. You're fuckin' telling me, man. Bring him back, then – if you can. But the shows were fantastic; they were just as good as Buzzcocks shows ever were. We came on stage to the Rocky II theme, cos the shows felt a bit like 'Rocky: The Comeback'. It all worked fine. A reviewer, who came to a few of the shows, wrote: 'Diggle destroyed the doubters', which I thought made a good headline. The only way I can prove to people that I'm doing the right thing by keeping the Buzzcocks going is by them coming to the gigs."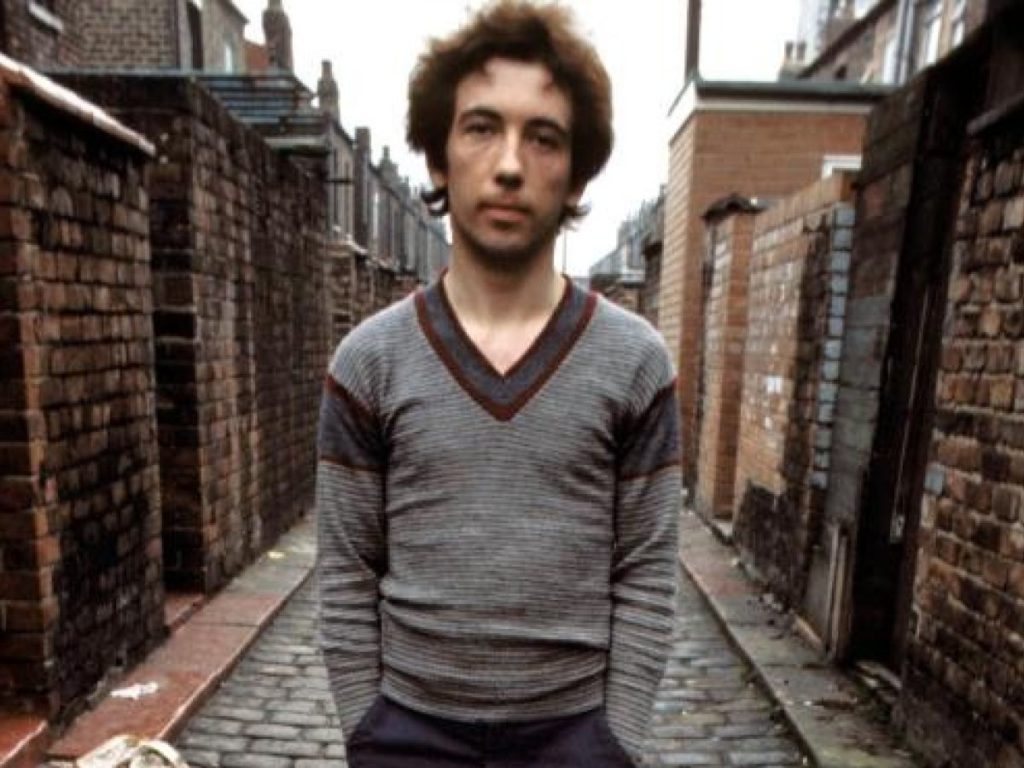 "The only way I can prove to people that I'm doing the right thing by keeping the Buzzcocks going is by them coming to the gigs." Steve Diggle.

Tweet
In the grand scheme of things, do the Buzzcocks get the musical respect they deserve?
"That'll only happen when I'm dead, probably. Then people will say, 'Ah, weren't they good'? But yeah, in the grand scheme of things, the Buzzcocks were as important as the Pistols and The Clash. Everybody knows a Buzzcocks song, and everybody knows the Buzzcocks were cool in their own way. We were very punk in the beginning with the Spiral Scratch EP and all that, but sometimes I think 'Ever Fallen in Love' detracts from the whole nature of the band. We did experimental music as well, which you can hear in songs like Autonomy.
"The Buzzcocks covered a lot of musical ground. Like I said, sometimes I think the seven or eight appearances we made on Top of the Pops in support of our first few singles overshadow the whole nature of the group. Yeah, we were good at the singles, but we also regard ourselves as bit avant-garde with our 'angular' guitar sound, which was influenced by a bit of Kraut Rock and that. "
"Sometimes I think 'Ever Fallen in Love' detracts from the whole nature of the band. We did experimental music as well, which you can hear in songs like Autonomy." Steve Diggle.

Tweet
Pete lived his final years in Estonia. Did you get to visit him there?
"No. He was only there a couple of years. We'd be on the road with each other most of the time, so the last thing you wanted to do was spend downtime together. You need a break from band business. Pete had a wife and when I came off tours, I had my mates in Highgate village to see. It's cold in Estonia. That's all I know (laughs).
You strike me as someone who prefers to look forward rather than back. But have you stayed in touch with many of your punk peers from the 70s?
Not really. I see (Sex Pistol) Steve Jones if we're playing in Los Angeles, and cos we play a lot of the same festivals we bump into The Damned quite a bit. When we do see each other there's a lot of talk about the early days, and memories shared about all the brilliant adventures we had.
And I'd say there were plenty more adventures to come, Steve. Travel well my friend, and thank you.
Buzzcocks: Late for the Train – Live & In Session 1989-2016 is released by Cherry Red Records on January 22nd.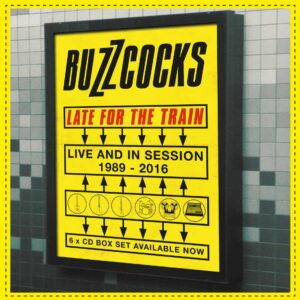 Late For The Train – Track Listing

Disc One: Live In Birmingham, 1989

1. I Don't Know What To Do With My Life 2. I Don't Mind
3. Love You More
4. Promises

5. Why She's A Girl From The Chainstore 6. Autonomy
7. Noise Annoys
8. You Say You Don't Love Me

9. E.S.P.
10. Everybody's Happy Nowadays
11. Harmony In My Head
12. What Do You Know?
13. What Do I Get?
14. Fast Cars
15. Ever Fallen In Love (With Someone You Shouldn't've)
16. I Believe
17. Orgasm Addict
18. Oh Shit!
19. Boredom

Disc Two: Live In Worcester, 1993

1. TTT
2. Innocent
3. Last To Know
4. When Love Turns Around You
5. I Don't Mind
6. Who'll Help Me To Forget
7. Autonomy
8. Get On Our Own
9. Energy
10. Alive Tonight
11. I Don't Know What To Do With My Life 12. Palm Of Your Hand
13. Fiction Romance
14. Do It
15. Nothing Left
16. Isolation
17. Unthinkable
18. No Reply
19. Sixteen Again
20. Why She's A Girl From The Chainstore 21. Harmony In My Head
22. Fast Cars
23. Breakdown

Disc Three: Live In Paris, 1995

1. I Don't Mind 2. Unthinkable 3. Strange Thing 4. Energy

5. Breakdown
6. Innocent
7. Why She's A Girl From The Chainstore
8. Last To Know?
9. Running Free
10. Libertine Angel
11. Why Can't I Touch It
12. Noise Annoys
13. Boredom
14. Do It
15. Harmony In My Head
16. I Believe
17. I Don't Know What To Do With My Life
18. Love You More
19. Autonomy
20. Orgasm Addict
21. Promises
22. When Love Turns Around You
23. Ever Fallen In Love (With Someone You Shouldn't've) 24. What Do I Get?
25. Oh Shit!
26. Fast Cars

Disc Four: Live At Finsbury Park, 1996

1. You Say You Don't Love Me
2. What Am I Supposed To Do Now? 3. Hold Me Close
4. Playing For Time
5. Love You More
6. Harmony In My Head
7. What Do I Get?
8. Back With You
9. Boredom
Live At Maida Vale, 2003 (Bbc)
10. Driving You Insane
11. Keep On
12. Certain Move (Take 1)
13. Certain Move (Take 2)
14. Lester Sands
15. Jerk (Take 1)
16. Jerk (Take 2)
17. Breakdown (Take 1)
18. Breakdown (Take 2)
19. Orgasm Addict
20. Harmony In My Head

Disc Five: Live In London, 2006

1. You Tear Me Up
2. Friends
3. Operator's Manual
4. Isolation
5. Running Free
6. Reconciliation
7. Whatever Happened To?
8. I Don't Mind
9. You Say You Don't Love Me
10. Moving Away From The Pulse Beat
11. Strange Thing
12. Love You More
13. Soul On A Rock
14. What Do I Get?
15. E.S.P.
16. Hollow Inside
17. Why She's A Girl From The Chainstore 18. Speed Of Life
19. 369
20. No Reply
21. Totally From The Heart
22. Times Up
23. Autonomy
24. Promises
25. Boredom
26. Ever Fallen In Love (With Someone You Shouldn't've)?
27. Harmony In My Head
28. Orgasm Addict

Disc Six: Buzzcocks At The BBC, 1993-2016

1. Do It (National Music Day 1993)
2. Isolation (National Music Day 1993)
3. Palm Of Your Hand (Jakki Brambles Session 1993)
4. Ever Fallen In Love (Jakki Brambles Session 1993)
5. Do It (Jakki Brambles Session 1993)
6. Isolation (Jakki Brambles Session 1993)
7. Unthinkable (Jakki Brambles Session 1993)
8. Energy (Mark Radcliffe Session 1994)
9. Libertine Angel (Mark Radcliffe Session 1994)
10. Roll It Over (Mark Radcliffe Session 1994)
11. Last To Know (Mark Radcliffe Session 1994)
12. Flatpack Philosophy (Mark Radcliffe Session 2006) 13. Soul Survivor (Mark Radcliffe Session 2006)
14. Love You More (Mark Radcliffe Session 2006)
15. Promises (Mark Riley Session 2015)
16. It's Not You (Mark Riley Session 2015)
17. The Way (Mark Riley Session 2015)
18. In The Back (Mark Riley Session 2015)
19. Ever Fallen In Love (6music Festival 2016)
20. People Are Strange Machines (6music Festival 2016) 21. Boredom (6music Festival 2016)
Main Photo: by Shirlaine Forrest/WireImage
---
Follow Buzzcocks On Their Socials
---
If you enjoyed this you might like…