Richmond VA pop-punks share pop-infused anthem and new music video.
Nothing says summer quite like a brand-new Broadside single. The band are back with their first original material since the quartet's acclaimed 2020 album and Top 5 charting record Into The Raging Sea. The East Coast alternative rockers have returned with renewed confidence, sense of self, and electrifying pop-infused anthem One Last Time.
This invigoratingly catchy and vocally-driven track arrives on the precipice of the band's first full US headlining tour. The track was made with one goal in mind; to sweep the crowd off their feet.
Produced by Andrew Baylis (Sleeping With Sirens, VRSTY, Savage Hands) in Nashville's The Boneyard Studio A, the exciting single encapsulates the rush of a head-bopping melody with a tale most listeners know all too well. Lyrically pointing out the irony of wanting to return to a place we were already at, Broadside indicate that sometimes it's best to let the past be the past and focus instead on who we are and who we want to be.
Offering a delightful preview of the spirited energy one is bound to enjoy experiencing the track live at Broadside's upcoming shows, fans can also dive into the alluringly jovial and color-graded world of the band's accompanying music video.
Speaking on the song's inspiration, vocalist Ollie Baxxter shares a glimpse into the mind of an artist and man who at times stumbled and fell. But who also adapted and overcome many a hurdle to stand where he is today. "I've grown older and somehow less emotionally attached to this world," the singer explains. "The song is a message to myself or whoever else; wake up! Remember when you wanted it!? Remember why you wanted it!?"
One Last Time is out now.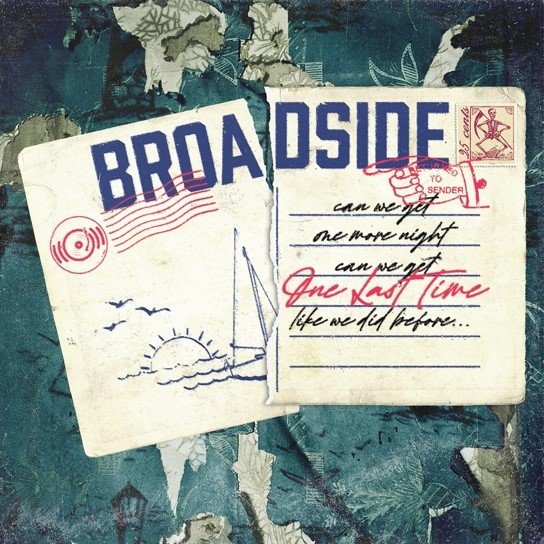 ---
Follow Broadside on socials…
---

Need some more punk in ya life?

Punktuation Magazine For All Your Daily Punk News, Features, Interviews, Lifestyle and more!