A charming, full-bodied and full-hearted debut album from rising stars of UK pop punk
Punk Dancing for Self Defence (PDFSD) is a 15-track celebration-come-lament of navigating the simple complexities of relationships and social interactions in our modern world. This is the debut album from UK-based Breakup Haircut, recorded throughout the pandemic and now ready to be unleashed not a moment too soon.
The band got together in 2019 as part of the First Timers Fest and is comprised of Delphine (guitars/vocals), Ishani (vocals/guitars), Jordan (drums) and Ripley (bass/vocals). Since their formation, they have been working hard (as much as the pandemic allowed) at making friends and landing gig slots with Big Joanie, Wales Goes Pop!, Bigfoot Fest, Loud Women Fest V, and more. Their debut full-length album follows their 2019 EP "What Did You Expect? I Got it Off the Internet!"
The tunes are upbeat, playful and sometimes delightfully goofy but don't let that fool you into thinking the album's substance is all fun and games. In fact, the whole album is full of moments of poignancy and introspection about modern life that makes this super relatable for anyone who wants to get their life and their boundaries together but also kinda wants to watch TV and not have to have awkward conversations. 
There's a hint of Dude Ranch-era Blink 182 in the album but also a real early 90s college rock laid-back energy throughout, reminiscent of The Breeders and Camper Van Beethoven. There are some early Green Day vibes in the first half of the album with tracks such as the opener; I Don't Want to be Your Friend, a track that demonstrates a theme that you'll find weaved through the rest of the tracks: complex messages (in this case 'you're not entitled to my time') delivered in a friendly, sing-a-long tone. The chorus of Out of My Way (I'm Not Getting on the Night Bus) has such a pop-punk anthem quality to it; you can imagine hoards of Dickies-clad teens belting it out at a Vans Warped Tour sesh.
Marie Kondo sets out the cognitive dissonance inflicted on the young who are sold the dream of the big house and the ordered, mature lifestyle juxtaposed against the millennial reality of filling the void with as much stuff as our PayPal accounts will allow and sending the Feng Shui dream house to the back of our minds.
There are some really big themes here: love, identity, growing up, boundaries and emptiness- still relatable no matter what era you are writing or listening to songs in. There is clearly a catharsis to drawing these all together on the album, and the joyous and humorous execution of the songs makes it feel like a safe way to feel all the feels. By the time you get to track 'Sugar Cereal' and hear the refrain "what's the point in being fully grown up at all?" you'll want to laugh and cry; it will hit the spot so much.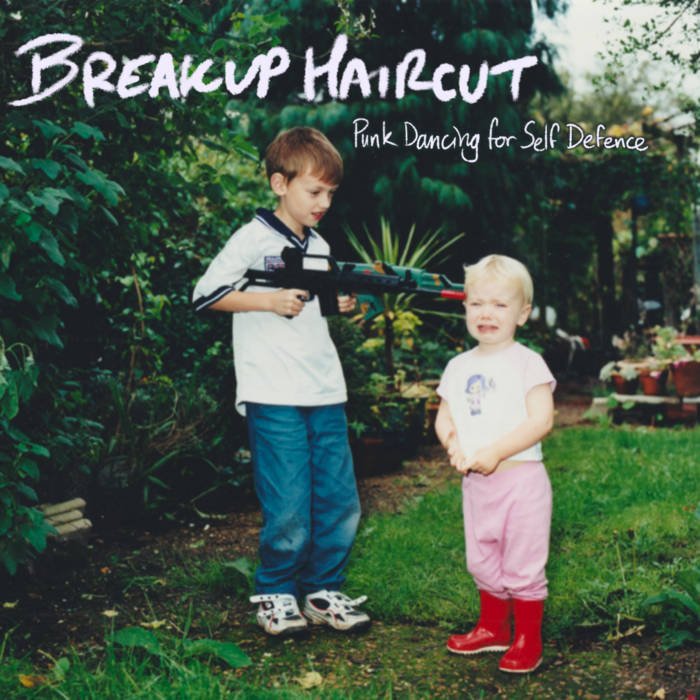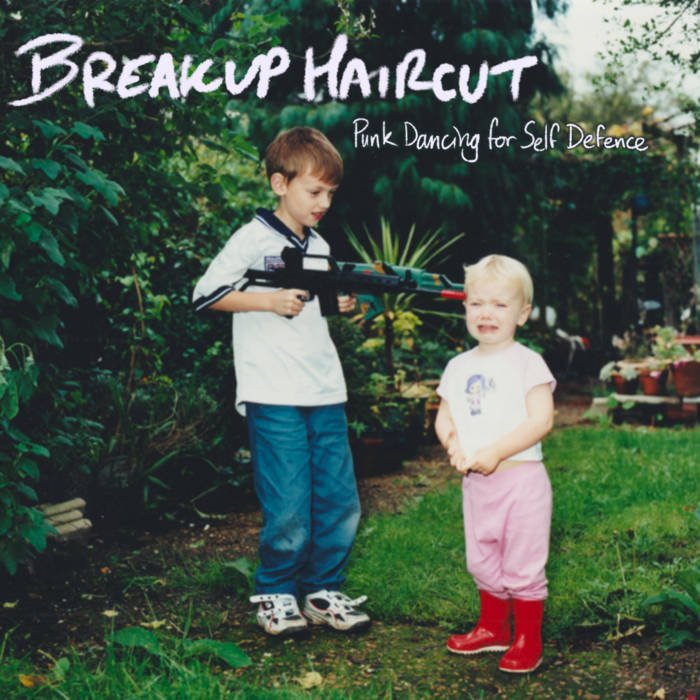 All these witty observations and earnest, self-deprecating confessions are delivered against a backdrop of catchy guitars, boppin' basslines and well-crafted pop sensibilities. And another thing the band do well is song titles- who can resist the allure of a song called "Why Can't I Be Cool Enough to Move to Berlin?".
This is an album for life- for breakups, makeups, friendships, milestones, days lost in existential dread and other days watching cartoons and eating crisps. If you want an album that explores the relationship between Bart and Millhouse as well as the insidious infection of capitalism, then this is the album for you and your triumphs and anxieties.
Punk Dancing For Self Defence is released TODAY – 15th July 2022. You can order the album here from: Punk Dancing for Self Defence | Breakup Haircut (bandcamp.com)
---
Follow Breakup Haircut for more…
---
Read more of the latest in punk