Molly Tie chats with guitarist and co-songwriter Ava Noir to get the lowdown on what makes BOYSCLUB tick.
BOYSCLUB, calls itself a four-piece Queer, Femme, Punked-Up Grunge band, and hail from Sydney, Australia. The music doesn't hold back either and certainly pulls no punches. It calls out injustice and exposes harsh truths including, domestic violence, violence against women, drug addiction as well as championing queer empowerment.
The members of BoysClub have each been around the Sydney music circuit for a number of years and the formulation of the band as it is today seems to be a combination of conscious band-building from Ava (guitar) and Skarlett (drums) and a touch of serendipity in finding Sera (vocals) and Lou (Bassist).
"Skarlett and I played in another band together with two other guys and a whole bunch of shit happened and we left," Ava reveals as we chat over Zoom. "Things got tense and awkward and there were some weird vibes and it all started to feel very negative.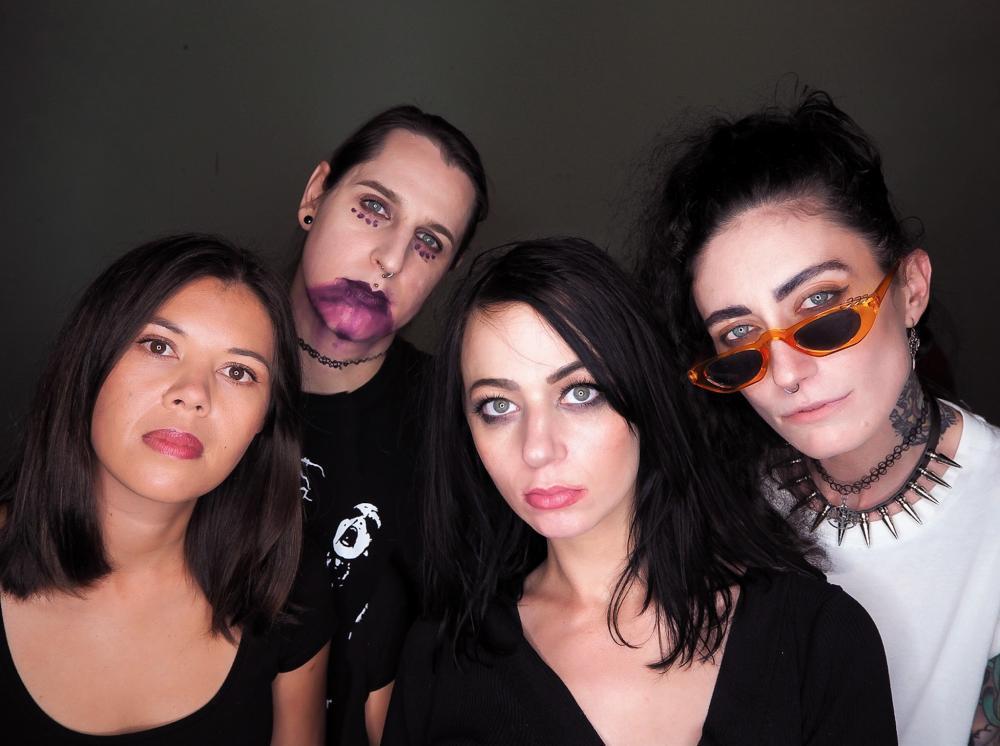 "Skarlett and I would travel to our shows together – just the two of us, driving for like eight or ten hours just listening to music and talking. We were listening to all this great femme, grungy punk and we just both thought this is what we love, this is the music we should be doing. Let's just do our own thing and write music that we would actually want to listen to."
The pair struck out on their own and out of the ashes of acrimony, the guitarist and drummer decided to build a band on a stronger foundation. But it was a chance glance on social media that brought Sera Doll into Ava and Skarlett's orbit.
"I saw Sera come up on Facebook – I knew her from a few years before when she was in a band with my old housemates," Ava continues. "I saw that she had gotten clean and I just wanted to reach out to her and congratulate her and find out what she had been up to.
"We started to talk about music, and she sent me stuff she had written and said she was potentially looking to start a band. I listened to her stuff and thought 'this is really fucking good."
Although Ava herself is a bass player, she wasn't keen on being bassist for BC due to the creative direction writing songs with guitar was taking her. A fourth member was needed.
"We were talking to different bass players, but nothing was coming together in terms of a jam. Then I was scrolling through Facebook and saw Lou, who was playing in another band who Skarlett knew. I thought she looked really cool, but we didn't necessarily want to poach her from another band, but she eventually ended up joining us."
The band have an organic and instinctive approach to writing and recording. There's no Svengali-esque master strategy for world domination; instead, the chemistry between the four musicians means creativity has been able to flow naturally and has been incredibly productive very quickly.
"We wrote pretty much 14 songs in our first three rehearsals," Ava explains. "Villains was written in our first rehearsal. Lovesick was written in our third rehearsal – the structure and chords and everything was written in one go. I do some writing at home but a lot of the time, we are in a room together and it is off the cuff, and we just see what works."
Lyrical duties are performed by both Ava and Sera and pull from their own personal experiences as well as observations on those closest to them. By sticking to their own lived experiences, there is an authenticity and intensity to the confessional lyrics that are reminiscent of '90s grunge bands such as Hole and Lunachicks. Although the topics covered are no joke, Ava wants people to make up their own mind about the lyrics and have fun with the music.
"We wrote pretty much 14 songs in our first three rehearsals. Villains was written in our first rehearsal. Lovesick was written in our third rehearsal." Ava Noir BOYSCLUB

Tweet
"Lyrically, I only want to write what I know about or about things we've actually been through. Me or Sera will write lyrics separately or we'll collaborate," Ava explains. "She, the Atrocity and Lovesick were written by me. Villains and our next single were written by Sera.
"With our lyrics, I want people to know what we're about and what we stand for, but I don't want to dictate how people interpret our songs. If people get what the song is about and can relate to the lyrics, then that's great. If they listen to our songs and think 'that's just a really fun song and I like the sound of it'- that's fine too. Music shouldn't be serious all the time- if it was, it would be too exhausting!"
With lyrical themes that cover topics such as addiction (Lovesick); toxic relationships (Villains) and gender dysphoria (She, the Atrocity), is it scary to document such personal experiences through your lyrics?
"It's scary as fuck! Especially as She, the Atrocity is probably the first thing I wrote lyrics to properly,' Ava confesses. "It is a trans song – being trans is not a walk in the park. Coming out as trans gave me so many more problems to deal with. Dysphoria and body image issues just fucking suck. Of course, everyone's experience is different- this is my experience."
Due to the nature of the lyrics, it seems no topic would be off limits if it could be done justice by the band. Although not necessarily consciously referencing the wider political landscape in the way early incarnations of punk did, bringing awareness of personal issues that are still taboo or widely misunderstood and dismissed in society is a political act in itself.
"Music can have a role to play in bringing a spotlight onto certain issues," Ava explains. "Awareness is key. It is difficult to influence politicians directly but if you can raise awareness of an issue – like underfunding of mental health services – then it becomes harder for politicians to ignore it."
Spreading awareness and solidarity via their songs should be a lot easier now that Covid restrictions in Australia have been relaxed and live shows can resume. BoysClub, like all musicians and bands, were impacted by the suspension of gigs.
"Just as things were getting going with the band we were like, 'Oh. It's Covid!' Things kept getting cancelled, places were shutting down, no one had money to spend. I get a lot out of being on stage, so it was hard not playing – but we are now in a place to start playing our first load of shows.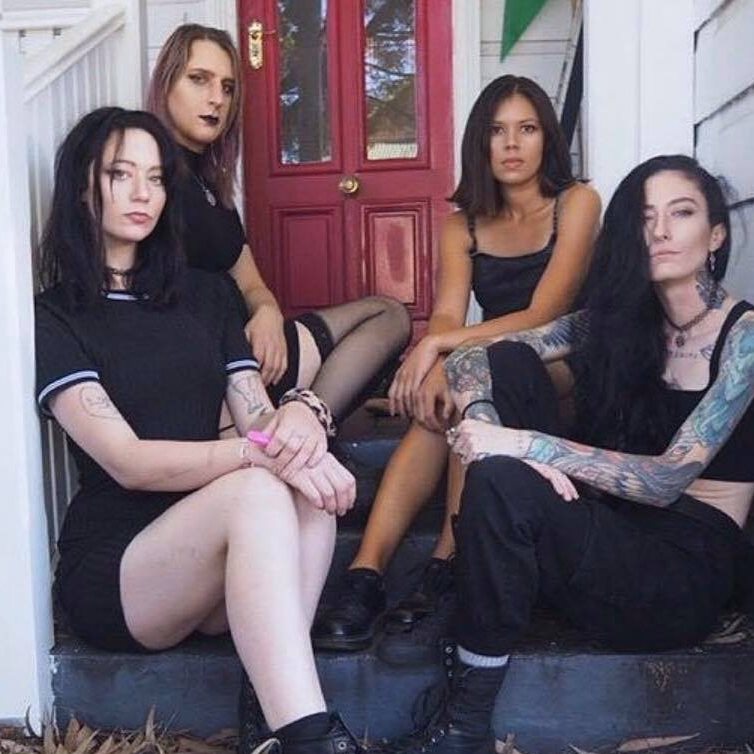 "We played two shows in one night recently and we have three more shows between now and Christmas including our first headlining date which is gonna be awesome as we were able to pick our support bands."
Although there is obvious excitement in getting out and cementing their dynamic on stage (as well as gaining more fans) Ava stresses that the band don't want to saturate the live scene by over-playing at the expense of keeping new material coming.
"I've seen that it is possible that you can play too much as people don't go to shows that often and when they do go, they don't want to see the same band over and over," Ava says. "You want something different to give to them. I would rather play less but have the shows be bigger.
"We're a grunge punk band, so it's not like we need to rehearse any corny stage 'moves'. We're not Kiss!" Ava Noir BOYSCLUB

Tweet
"I want to keep writing and getting new stuff out. If we are just rehearsing the same set of songs, then we're not writing new stuff. I enjoy writing stuff; I want to keep it moving and not get stale. We're a grunge punk band, so it's not like we need to rehearse any corny stage 'moves'. We're not Kiss!"
And speaking of writing and recording new material, what can Ava tell us about the new single and a possible album?
"I really can't give a lot away about the new single, but it will be coming soon. In terms of an album, I don't want to go and record until we are happy with what we have got and we're very close," Ava amits. "People will be surprised by the sound when they hear it because it has so many different directions.
"There's some stuff that's heavier and then there's some really pretty and chill sounds. Sometimes all in the same song. It will be a really cool album, I can't wait to get it done."
It is clear that the band are having a great time seeing where this journey is going to take them. It's not always easy making a band work but the great tracks that Boys Club have shown us so far would indicate that the mixture of these four members, with a lot of combined experience between them, is working.
"Being in a band is like being in a relationship with three other people – four different personalities, four different intensities. We're all friends and we love each other and that's the key." Ava Noir, BOYSCLUB

Tweet
"Being in a band is like being in a relationship with three other people – four different personalities, four different intensities. We're all friends and we love each other and that's the key. If you're not enjoying something, then stop. You have to do it (music) because you love it. We're all having fun and people are liking what we're doing so we'll keep going".
Their latest single Villains is out now. Support music and purchase it here.
---
More BOYSCLUB
---
You might also like…