Seasoned Texan punks release new track and music video from upcoming album
Pop-Punk royalty (and as it says in their bio, "Easily the 9th best pop punk band in history!"), Bowling For Soup are back with another banger and haven't lost their humour at all. 2022 is shaping up to be the biggest year in recent memory for the band. The Grammy nominated Texan pop punk quartet are unveiling their brand new single 'I Wanna Be Brad Pitt'. An ode to one of Hollywood's finest actors, it's a homage to Brad delivered in a way that only Bowling For Soup can.
Bowling For Soup has also revealed that 'I Wanna Be Brad Pitt' is the latest single to be released from their upcoming new album 'Pop Drunk Snot Bread'. Recorded in September 2021 in the Pocono Mountains in Pennsylvania, with longtime collaborator Linus Of Hollywood handling production duties alongside Jaret.
'Pop Drunk Snot Bread' is the 11th studio album by Bowling For Soup and first since 2016's "Drunk Dynasty." The album will include previous singles Alexa Bliss, Getting Old Sucks (But Everybody's Doing It), and Killin' 'Em With Kindness.
'Pop Drunk Snot Bread' will be released on the 22nd of April 2022 through Brando/Que-So Records.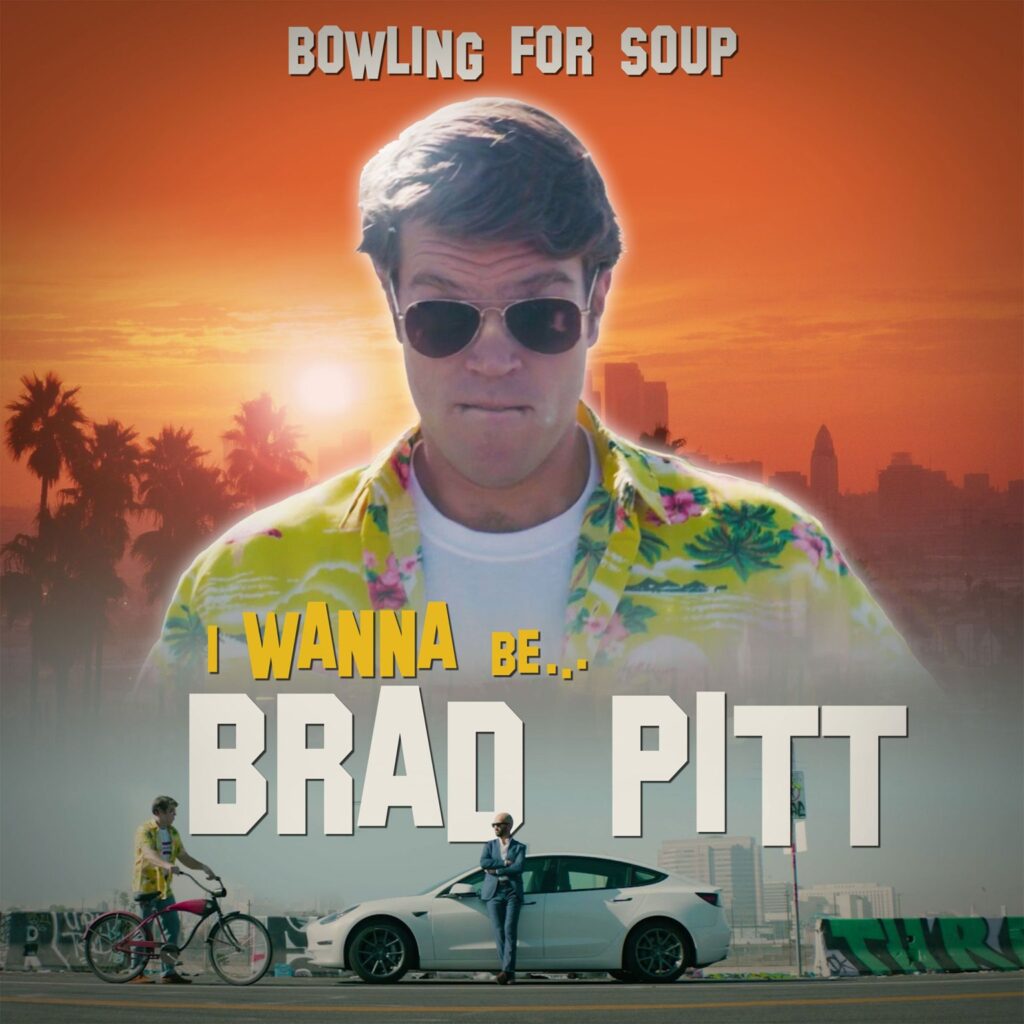 Frontman/guitarist Jaret Reddick had this to say on the track, "Everyone who knows me, knows I love Brad Pitt. I got this chorus in my head while driving one day, and really, the rest kinda just wrote itself. I wanted the song to be a thoughtful tribute and not sacrifice the homage by making fun of him or things in his life. So that's the direction I went and when it still got laughs from the band, I knew I had hit it out of the park."
The video for the single, featuring one of "Brad's biggest fans" as well as your favorite pop punk band, can be enjoyed below!
Bowling For Soup will return for their Crowdsurf The UK Tour this spring. Following that, Reddick and bass player Rob Felicetti will be back in late May for the Acoustic Sing-A-Long With Jaret and Rob Tour.
Bowling For Soup April/May UK tourdates

Tue April 12 2022 – BLACKPOOL Empress Ballroom
Wed April 13 2022 – GLASGOW O2 Academy Glasgow
Thu April 14 2022 – GRIMSBY Auditorium
Fri April 15 2022 – SCARBOROUGH Spa Grand Hall
Sat April 16 2022 – BIRMINGHAM O2 Academy Birmingham
Sun April 17 2022 – BOURNEMOUTH O2 Academy Bournemouth
Mon April 18 2022 – TORQUAY Riviera International Centre
Tue April 19 2022 – SWANSEA Brangwyn Hall
Thu April 21 2022 – BEXHILL ON SEA De La Warr Pavilion
Fri April 22 2022 – MARGATE Winter Gardens
Sat April 23 2022 – LONDON O2 Academy Brixton

Sun May 22 2022 – BRISTOL Thekla
Mon May 23 2022 – CAMBRIDGE Junction
Tue May 24 2022 – SHEFFIELD Leadmill
Wed May 25 2022 – STOKE Sugarmill
Thu May 26 2022 – HUDDERSFIELD Parish
Sat May 28 2022 – SOUTHEND Chinnerys
Sun May 29 2022 – GUILDFORD Boileroom
Mon May 30 2022 – LONDON 100 Club
---
Follow Bowling For Soup on their socials
---
Why not check out more of the latest in punk?