Last month Dutch punk club Paradiso helped journalist and DJ, Oscar Smit launched part 4 of his Paradiso Punk Years series of books with a Paradiso festival of entertainment. Herman de Tollenaere was there for Punktuation magazine.
In Amsterdam, theParadiso club is talked about in a reverential manner. It is, after all, the unofficial home of punk in the Netherlands, and many young punks considered Paradiso to be their living room.
Last month, in the midst of yet another European-wide Coronavirus outbreak, the Amsterdam club held a socially distanced festival of punk, new wave and ultra music to celebrate the launch of the fourth part of the ongoing book series De Paradiso Punkjaren (The Paradiso Punk Years).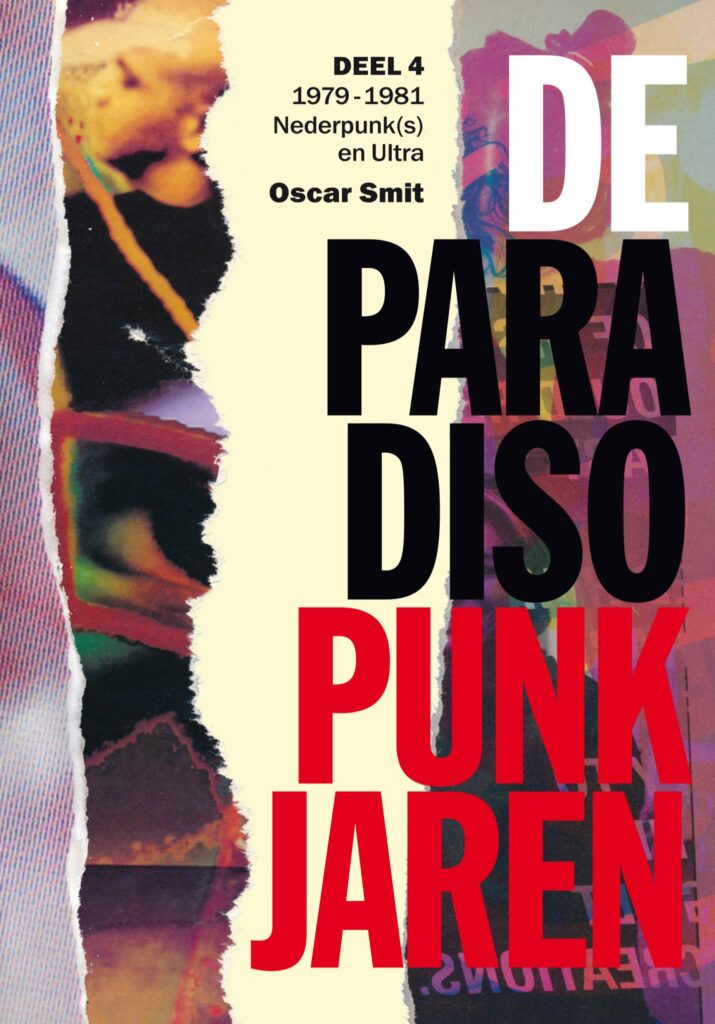 Oscar Smit's latest book (De Paradiso Punkjaren 1979 – 1981 Nederpunk(s) en Ultra) contains an extensive index and timeline. It is, therefore, a reference work for both the history of Paradiso and the history of Dutch punk. The book is a fascinating read. It is stuffed full of information and has loads of great photos – and to be honest, the whole series is a "must-have" for every Dutch punk fan out there.
For the book launch, the big hall of Paradiso was as full as the latest coronavirus rules allowed, and Diana Ozon (best known as a punk poet and former editor of Koekrand punkzine), and Peter van Abbe (best known as the guitarist of '70s band the VD Patients) opened the proceedings. Peter played acoustic guitar to Diana, half singing, half speaking her poems.
The author, Oscar Smit, was next on stage. He wasinterviewed about his book by filmmaker Babeth M. Vanloo (Director of 'Sex Pistols & Berlin Wall' and 'Kiss Napoleon Goodbye' with Henry Rollins and Lydia Lunch) but not before he presented a copy of his book to the widow of Paradiso's doorman and iconic punk poet Ton Lebbink.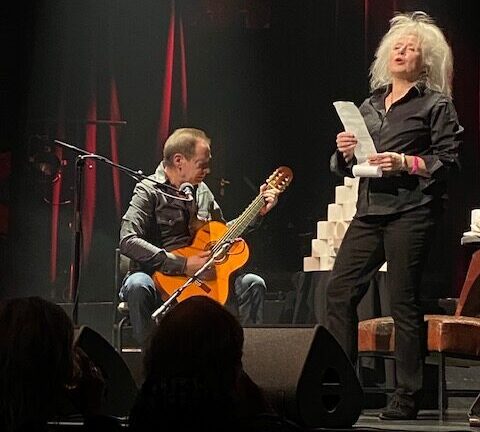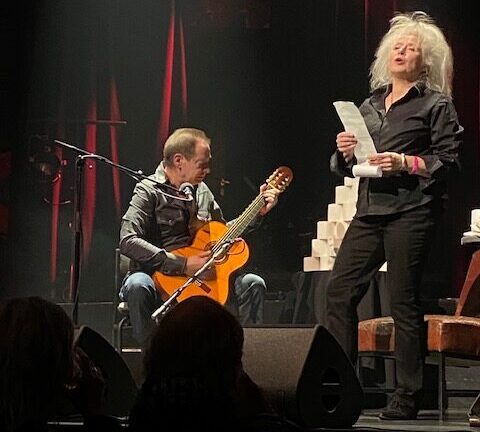 Babeth remarked that the punk mentality is not just a thing of the past but also today. Oscar agreed, adding that he would add new volumes to his series on punk in Paradiso, about the post-1981 times.
Then came the premiere of Babeth's new filmAmsterdam Punk Resurrection about the late 1970s Amsterdam punk band the VD Patients. Babeth has built up a reputation in her impressive career with cult and arthouse films, andAmsterdam Punk Resurrection is yet another great movie to add to her brilliant filmography.
Terrie Hessels, guitarist of Dutch punk band The Ex, bounded onto the stage next and played an amazing solo slot. Formed in 1979 at the height of the original Netherland's punk explosion, The Ex was initially known as an anarcho-punk band, but in their 40 years together, they explored a wide variety of genres, blending punk rock with free jazz and folk. With onlyTerrie and his electric guitar, he switched between plectrum and violin bow and showed unexpected possibilities of his instrument. The audience, of course, was suitable impressed.
Next up was music by Deneuve starring Marc and André, guitarists of Tox Modell, a band from the Dutch post-punk movement known as Ultra – then popular among art school students.
The Amsterdam punks The Bugs played more than 50 times at Paradiso between 1979 till 1983, so they were a 'no brainer' when it came to who should be invited to play at this celebration of Paradiso. Unfortunately, some of their band members have passed away over the convening years, but The Bugs singer Peter Sinnige, bass player Carlo Edel and friends played a great collection of Bugs songs.
The audience reacted enthusiastically, especially to 'Mamma, I wanna go out tonight.'
Margaritha, the singer of the band Clapcats, was up next. Her band opened for Siouxsie and the Banshees at Paradiso in 1980 and on stage Margaritha announced that after forty years, the recording of that Clapcats set had been rediscovered and released.
The last band of the day was The Reuters. The Amsterdam punks have only been around since 2016, but some of the band members have been in the Netherland's punk scene for a long time. Their current bassist, Bobbie Rossini, was the singer in '70s punk band The Suspenders, a band with, among others, Allard Jolles. Later they were both in Claw Boys Claw.
The Reuters played a great set that included the Suspenders song, 'I Hate The Cops.' It was definitely a highlight of their set.
A brilliant afternoon was had at Paradiso, showing that the ongoing pandemic cannot kill music – especially not punk.
De Paradiso Punkjaren 1979 – 1981 Nederpunk(s) en Ultra is out now and available through Black Olive Press.
---
FollowParadiso On Socials
---
Keep up to date with the latest in punk