Anti-Flag has released an expanded edition of the band's recent 20/20 Vision album, with five additional tracks.
In January of this year, the Pittsburgh punks released their prophetic album '20/20 Visions' long before the global chaos of 2020. Closing out this tumultuous year, the band have re-released the album in the form of a digital-only deluxe edition, retitled 20/20 Division, featuring five new songs.
Anti-Flag has always worn their broad political opinions brazenly on their sleeves, their 12th Studio album, however, was written with a singular focus. 20/20 Vision was an album completely unafraid of screaming out the band's opinion of Trump America.
Cynicism is often our biggest enemy, and when we give up, when we quit and when we feel like we can't change things, Donald Trump and neo-fascism win. We can change things. Justin Sane, Anti-Flag
The album has been hailed as one of the year's best punk albums with many high praising reviews to back it up.
"We have actively chosen to not attack Presidents directly, either with album art or songs about certain times in history, because we recognise that the issues we're dealing with are cyclical," Chris No. 2 said when the album was announced. "But on this record, in particular, we kind of said, well fuck that, we need to be on the record in opposition to the policies of Donald Trump and Mike Pence."
"This record is a warning to people holding neofascist ideas or people who are enabling these types of positions, whether you're outright racist or you're enabling racism or sexism or homophobia or transphobia," Justin Sane added. Little did they know the foreshadowing element this the album would have.
As 2020 unfolded the relevance of the album became evident, prompting the release of 20/20 Division Deluxe, adding five new tracks to the listing.
"To say this year hasn't gone according to plan for anyone may be one of the greatest understatements of all time," the band states. "But through it all, the sadness that overwhelms in the world during a global pandemic, the constant pain American justice systems deliver on a daily basis, and the fear that comes along with watching our planet squeezed like a lemon for profit, we must actively choose optimism over cynicism."
The band have also released a new documentary Beyond Barricades: The Story of Anti-Flag, diving deep into the world of punk rock and activism. Playing highly charged political punk for over 25 years has its trials and tribulations along with its highs. This documentary an inspiring look at a group of musicians dedicating their lives to fighting for human rights through their music and their influence.
Their deeply ingrained sense of empathy and relentless desire to fight for what's right has at times taken its toll on the band. This hasn't stopped Anti-Flag doing what they do best – producing thought-provoking, high energy punk.
The deluxe digital edition of 20/20 Division is out now.
You can buy it here.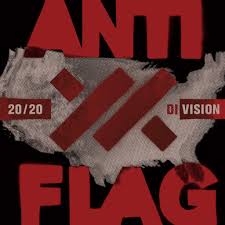 ---
Get More Anti-Flag Now!
---
Everyone should have a soundtrack playing loudly in the background of their life. I was born moshing to my own beat and have never swayed from my love of music. Spreading my passion through the written word is my soul's purpose. My punk heart beats loudly with the rhythm of my rock soul. I plan to continue to mosh like no one gives a shit.
Click on Tracey's photo for more of her articles!