Wanna keep your little anarchist entertained and active during lockdown? Why not get them into Punk Rock Aerobics?
Founded in Boston in the U.S. back in 2000, Punk Rock Aerobics (PRA) touts itself as "the original DIY workout that rocks out – combining original punk dance moves with aerobic exercise… " And all done, of course, to punk music!
"Punk Rock Aerobics is not about how you look but how you feel," says PRA's mission statement. "We aim to inspire, empower, and have a good time. The PRA fitness revolution starts in your mind. Free your mind and your ass will follow."
Co-founder and aerobics instructor Hilken Mancini says her Punk Rock Aerobics combines original punk dance moves with aerobic exercise.
With aerobic moves including: 'The Iggy Pop' 'The Air Guitar' and the 'Skank' – as well as a circle-pit being part of the class – you can't but agree with Hilken's statement that the lessons are: "infused with the humour, attitude, and aesthetics that are integral to the identity of punk and DIY."
The classes are usually held in rock clubs with the workout using bricks for weights and special guest DJs spinning killer punk anthems. However, the global pandemic has seen the classes move online "We won't let this virus stop us from celebrating our 20th year of limiting notions of beauty, fitness, and ability!" Hilken says on her website.
Punk Rock Aerobics has broadcasted virtually on Tuesdays since the pandemic locked us all into forced quarantine, but one good thing that has come out of this is that wherever you are in the world you can now join the fun! (More details below)
If The Kids Are United!
The online classes have been so successful Hilken has just announced that PRA is launching a punk rock exercise program for kids – with the first virtual class starting TODAY (August 6) and continuing weekly via Zoom.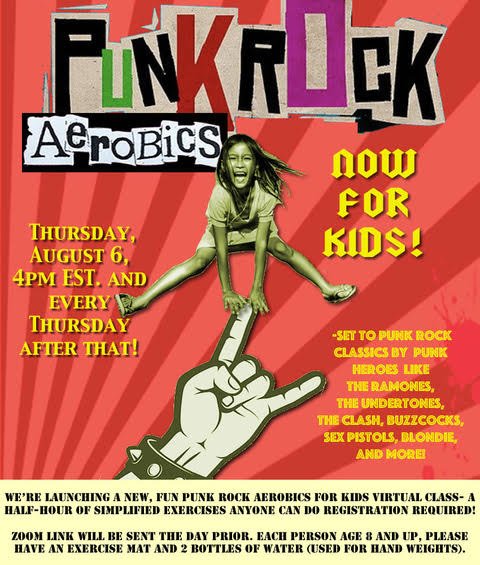 "This is to help parents get a break from the kids," Hilkin says of the virtual 40 minutes classes that uses simplified exercises geared towards kids. "The Punk Rock Aerobics for Kids playlist is an extension of the original Punk Rock Aerobics, with younger participants in mind. It features Ramones, X-Ray Spex, The Rezillos, Undertones, The Clash, The Stooges, Blondie, and others."
Hilkin asks that all participants use an exercise mat and bring two bottles of water, to be used for hand weights. Registration is $12 per family, and more info can be found on the EventBrite registration page.
---
More Punk Rock Aerobics
All images © Punk Rock Aerobics
I'm a London born and bred music journalist, a mediocre bass player and the occasional strummer of the guitar. In the '80s I worked in recording studios and made a few records you'd probably recognise. I have written a couple of books and made the odd media appearance as a music commentator. I now call Brisbane home.