Following the release of their 2020 album 'Dirt Mall', Manchester trio Aerial Salad are back with new music!
'The Same 24 Hours (As Beyoncé)' is a scathing criticism of modern influencer, celebrity, and social media culture.
Inspired by Love Island contestant and social media influencer Molly Mae, who was quoted as saying, "Beyoncé has the same 24 hours in a day that we do", the new Aerial Salad single captures the frustration that millions of people have with this sentiment.
"The new single throws jabs at modern working life, and the constant feeling of 'survival' over prosperity for millions of British people who are just trying to live nice, relaxing, lowkey lives," explains guitarist and vocalist Jamie Munro. "But between soaring energy prices and unrealistic life expectations set by the likes of Molly Mae on social media, everyone is just left burnt out and hurting."
In typical Aerial Salad fashion, they deliver this message in a sarcastic, cheeky, and infectiously catchy way, stepping outside of their immediately recognisable sound, whilst remaining true to the essence of the band.
The video was recorded just outside of Vibe recording studio in Cheetam Hill, Manchester and subtly features clothes that the band have bought second hand as a last-ditch effort to stick one to fast fashion.
"If we had a bigger budget, it would have looked like the 'Ashes To Ashes' video by David Bowie," laughs Jamie. "But we don't have the money for a camera crew or make-up team so this will have to do for ya!"
Here's a look at the new video:
Aerial Salad are unlikely to become TikTok sensations anytime soon with their dancing but they are set to become one of the hottest punk bands on the planet.
They play a special single launch gig at Blondies in East London on September 15th, which is already SOLD OUT.
There will be more Aerial Salad very soon.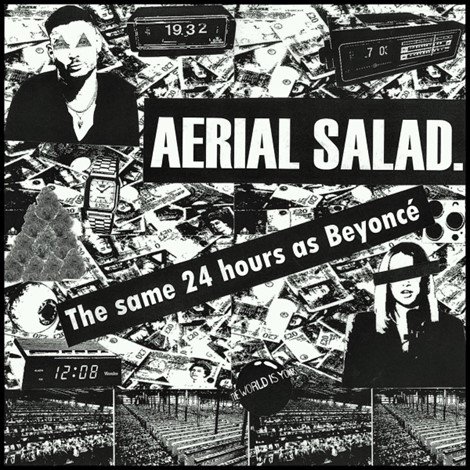 ---
Keep up with Aerial Salad on socials…
---
The Red Bastards release self-titled album full of partying and politics
Interview: Bar Stool Preachers talk new album, tours and meeting fans' pets.
No Trigger Debut Latest Record 'Dr Album'
One week left to get tickets for Loud Women Fest
Snark Release New Single 'Stay'
Wonk Unit, Death By Stereo, Lightyear and more for MPF 2023
Social Distortion and Bad Religion Announce Australia and New Zealand Co-headline Tour
The Chats team with The Bronx for US tour
Bruise Control sign with TNSrecords
Album Review: The Chats 'Get Fucked'
The Summer Set share some 'Hard Candy'
Live Review: Lars Frederiksen's one man show in Southampton
UK pop punk outfit Shark Bait announce new single
Girls In Synthesis announce new album, plus new single 'Watch With Mother'