The story of the influential Stiff record label, home to punk and new wave artists including the Damned, Lene Lovich, Elvis Costello, Ian Dury, and Devo!
Back in the days before the Internet, streaming services and affordable music-making software, getting your music out into the world took little more than an entire village to achieve! And record labels played an absolutely pivotal role in turning your music into a physical product that other people could hold in their hands and get in their ears.
When we think of a record label, the standard image conjured up is that of suited-and-booted executives sitting in their leather-backed chairs, eyes fixed on the 'moolah' to be made by signing 'The Next Big Thing'.
Horror stories abound of young artists being shafted by legal and contractual terms and loopholes that buy the bigwigs another yacht whilst the poor, and starving artist is left up shit creek with a turd for a paddle. (And yes, today's rip-off streaming services is a discussion for another day!)
As the punk scene started taking off in the UK the 'Fat Cat' record execs started smelling a fresh opportunity to make some money. Punk was fast becoming a commercial product that was started to be packaged and sold by the media and major record labels.
Many bands could not resist the allure of a hefty 'signing fee' or the promises of reaching larger audiences, and a lot of early punk bands ended up signing to the majors (The Clash – CBS. The Stranglers United Artists, The Sex Pistols EMI, the Undertones and the Rezillos -WEA Siouxsie and the Banshees and Sham 69 – Polydor) and the debates and recriminations were a plenty when this happened!
But punk, on the whole, was always slightly different. Due to the scene's innate sense of freedom, liberation, non-conformity, and DIY ethos, there has always been an appetite for smaller, independent outfits to help subvert the money-grabbing efforts of the big business grandees!
One of the bedrock labels of the late '70s UK punk movement (as well as the burgeoning New Wave) was the small and independent Stiff Records – formed in London in 1976 by Dave Robinson and Jake Riviera.
Known for its hijack marketing stunts, humour, and anarchic approach, they nurtured numerous artists from Elvis Costello to The Damned, from Ian Dury to Kirsty MacColl.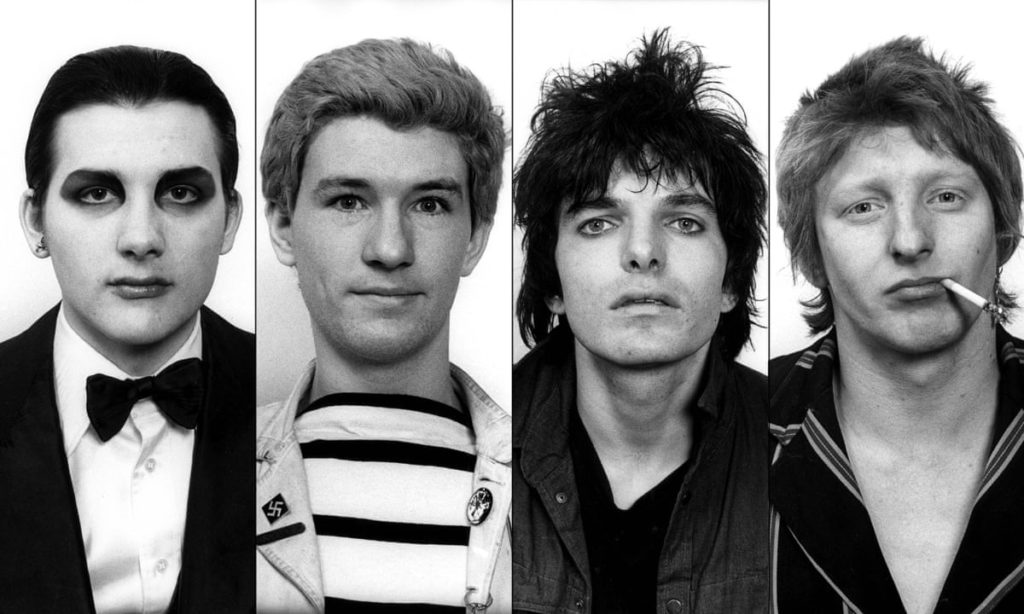 The timing of the label's launch was one of the first things that would guarantee future success for Riviera and Robinson. Forming in the mid-1970s, they were there at the forefront of the punk explosion in the UK, and in a great position to snap up talent and embed themselves in the scene from its inception.  
Both founders were no strangers to the music industry either. Robinson had worked for Jimi Hendrix in the '60s and had experience managing bands. Riviera had managed Essex band Dr Feelgood as well as other ensembles.
These contacts came in handy for Stiff's first release So It Goes by Nick Lowe (a catchy piece that was voted fifth best single of the year by NME)
Lowe had been a member of pub rock band Brinsley Schwarz (managed by Robinson) and Robinson suggested Stiff sign Lowe as a solo artist. Although So It Goes failed to chart, it more than recouped its investment and helped provide funds for the next endeavour.
"A lot of who we signed were musicians; we found songwriters, people who could write and who may or may not have had oil painting looks," Robinson said recently.
"We got a lot of people who were turned down by the big labels or who had left. We had the slogan "Undertakers to the record labels."
With this philosophy Stiff accumulated an eclectic mix of rag-tag artists and musicians in its early years, with Nick Tesco of The Members (who released one single Solitary Confinement with Stiff) remarking that their strategy seemed to be "throw enough shit at the wall, and some of it will stick".
And perhaps the stickiest of all the label' s releases was the debut single New Rose by punk heroes The Damned in October 1976. New Rose's status as the first bona fide UK punk single further cemented the relationship between Stiff and the developing punk (or punk-adjacent) artists.
Signings such as Ian Dury and Elvis Costello (signed after auditioning in Riviera's flat by performing 36 demos in 3 hours) were huge boons to the label and gave them their first number 1 release in Ian Dury's Hit Me With Your Rhythm Stick in 1977.
Dury's album New Boots & Panties!! had raced up the charts and its sales kept the label in business over the following months.
Riviera and Robinson cut formidable figures and many artists that went through the books at Stiff are candid about lack of 'bedside manner' that was exhibited by the pair.
Edward Tudor-Pole of Stiff signees Tenpole Tudor, hasn't held back in interviews when reflecting on his time on the label:
"Being signed to Dave Robinson was like entrusting your prized Stradivarius to a gorilla; it just gets bashed about. People harp on about the family atmosphere, but they were very unfriendly to me. I didn't notice any friendliness. Everyone was cowering in the corner."
Their abrasive nature was evident in the approach they took to marketing and promotion, with Stiff becoming well known for its witty, irreverent, and outlandish posters and slogans.
With graphic artist Barney Bubbles at the helm of the visuals, their advertising was eye catching and funny. Slogans like "The World's Most Flexible Record Label"; "If It Ain't Stiff, It Ain't Worth a Fuck", and "When You Kill Time, You Murder Success" (printed on promotional wall clocks) became infamous.
The label didn't take their image too seriously and utilised humour- an approach that set them apart from the Svengali-style of punk management that Bernie Rhodes and McLaren espoused.
In fact, Riviera had previously fallen out with McLaren on the Pistol's Anarchy In the UK tour, viewing McLaren's attempts at attaching Situationist philosophy and avant-garde aesthetics to his charges as pretentious (and Stiff sign ups The Damned would later go on to describe the Sex Pistol's Anarchy In the UK as 'utter shit').
Stunts such as having Elvis Costello serenade a CBS conference from the street outside the London Hilton (which ultimately led to his arrest) confirmed Stiff's reputation for eccentric capers.
Riviera and Robinson were inspired by the independent record labels that were more commonplace in America. They wanted to break away from what they saw as the stagnating, hippie-run labels that were dominant in the UK – with no courage, forward-thinking or creative instincts.
Joint live tours for Stiff artists were another big promotional idea. Their first tour – Live Stiffs Tour – which took place in 1977, had five acts: Elvis Costello and the Attractions, Ian Dury and the Blockheads, Wreckless Eric and the New Rockets, Nick Lowe and Last Chicken in the Shop and Larry Wallis' Psychedelic Rowdies.
As most of the artists were solo, 18 session musicians were also brought on the tour and there was a bit of mixing-and-matching as to who would play what instrument and for which singer.
But in 1978, the tension between the two founders reached a breaking point with Riviera leaving, taking Costello and Lowe with him.
He went on to form Radar Records, and Robinson stated years after the fact that Riviera had in fact become difficult to work with at that point. Robinson continued to manage the label. If Riviera had any illusions that his former partner wouldn't cope without him, they were well and truly dashed when Camden nutty boys Madness signed to Stiff in 1979 and remained there until 1984.
The band enjoyed a run of 23 top 20 hits. With Robinson pushing for innovative and eye-catching music videos, Madness were in a great position to find fame in the emerging music video craze.
By 1983, Islands Records bought 50% of Stiff and Robinson was at both labels' helm. With Island running into its own financial problems, Robinson was caught in the trap of robbing Peter to pay Paul, trying to keep both labels afloat.
Sadly the underlying financial and structural issues with Island and the money sharing deal between the two, was too much for Stiff to withstand and in 1987 it was sold to ZTT Records- a label formed by Trevor Horn, Jill Sinclair, and NME writer Paul Morley.
In December 2017, Universal Music Group acquired Stiff Records and ZTT and all the British rights to those early Stiff releases are held by BMG.
Despite the impressive successes of the label- both pre-and post-Riviera's departure – the 1980s saw a swing back to major label dominance and many smaller labels were being swallowed up by bigger ones.
in the '80s drugs also became an expensive distraction for both record company staff and musicians. and according to Robinson 'everyone was off their heads in the 1980s'
"I really wanted to sign the Stray Cats," Robinson said. "I went to the Portobello Hotel with a contract, and their singer Brian Setzer agreed to go with us. Unfortunately, they'd run up a £40,000 cocaine bill with a record executive, and I wouldn't undo that debt."
In the ensuing years of late 80's and '90s hedonism, smaller labels were just not in a position to woo the bands they wanted.
However sad the end of Stiff's punk dominance may have been, albums like Damned, Damned, Damned, and New Boots and Panties are a pretty significant legacy to leave.
Today Dave Robinson thinks Stiff's legacy can still be summed up in a simple truth once uttered by a guy called George Butler – a Scottish drummer in various Stiff bands.
"We were standing at a bar in a Kensington pub, and he was as pissed as a rabbit when he first uttered those famous words…"If it ain't stiff it's not worth a fuck!"
---
If you liked this, youll love…