Punk, whether it's the new wave of punk music or the classics that we all love, wouldn't be the same without the guitars and the musicians who play them. From older classic punk to modern punk, here are some the most influential punk guitars, as well as some that may not be as well known but still made a strong impact on the punk movement.
---
1. Gibson Les Paul Junior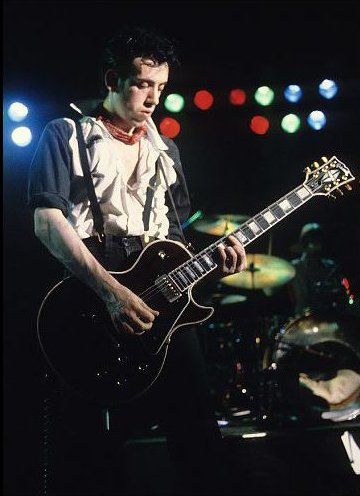 What makes the Gibson LP Junior so iconic in punk is the stripped-back design with the single pickup with just a volume and tone knob. The junior is more affordable than its cousin the LP Standard -making it a perfect choice for musicians who are strapped for cash and don't need all the bells and whistles.
There have been a lot of influential users of the LP Junior from Mick Jones of The Clash and Steve Jones of the Sex Pistols and Viv Albertine from The Slits. Mick Jones' definitive punk tone came from his Les Paul.

"My first proper guitar was a Les Paul Junior. I saved for months, till I had enough money. I had to have a Junior."

Mick Jones – The Clash
---
2. Fernandes Stratocaster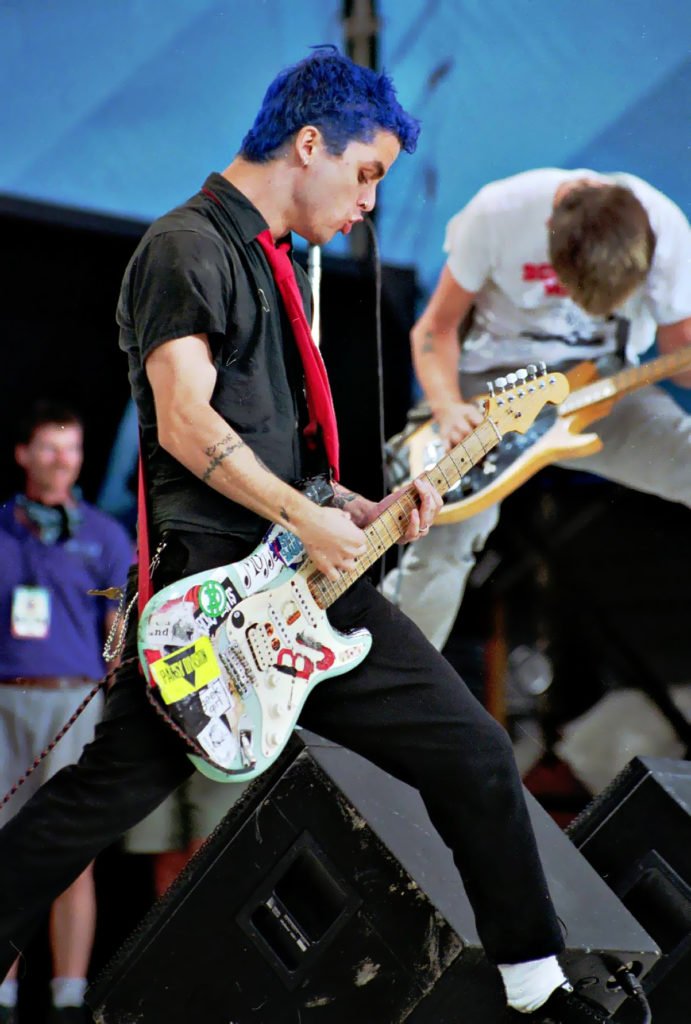 If you're after a modern player who uses the LP Junior you can't look past Billie Joe Armstrong from Green Day, who created a signature guitar using the LP Junior. However, Billie Joe's most loved and well known guitar is one he calls 'Blue'.
'Blue' was also Billie's first electric guitar that he received from his mum for his 11th birthday. The guitar originally belonged to David Margen, who was the bass player in Santana's band from 1977 until 1982. Contrary to popular belief, "Blue" is not a Fender Stratocaster – it's a 1970s Fernandes Strat copy that's been customised by Billie's guitar tech. Other than being covered in stickers that have been accrued over the many years of Green Day, the bridge pickup has been changed to a Seymore Duncan SH-4 for more aggressive output for the Green Day sound we all love.
---
3. Fender Telecaster

If you're a fan of old school punk then you'll recognise the Fender Telecaster as a staple for punk guitarists. The most notable player would be Joe Strummer of The Clash. Since the conception of The Clash in 1976, Strummer has been using the Telecaster as his main studio and live guitar up until his passing in 2002.
"That black Tele is on every record and every show I have done. It's got like a library stamp that says the 5th of August 1968 on the back of the neck."

Joe Strummer – The Clash
Why Strummer and many other punks have chosen the Fender Telecaster as their weapon of choice is for the cost-effective nature of the guitar and twangy but smooth sound of the bridge pickup. Pair the Telecaster with a high gain Marshall amp for that classic Clash sound or through a Fender Twin for the iconic London Calling tone.
---
4. Mosrite Ventures model II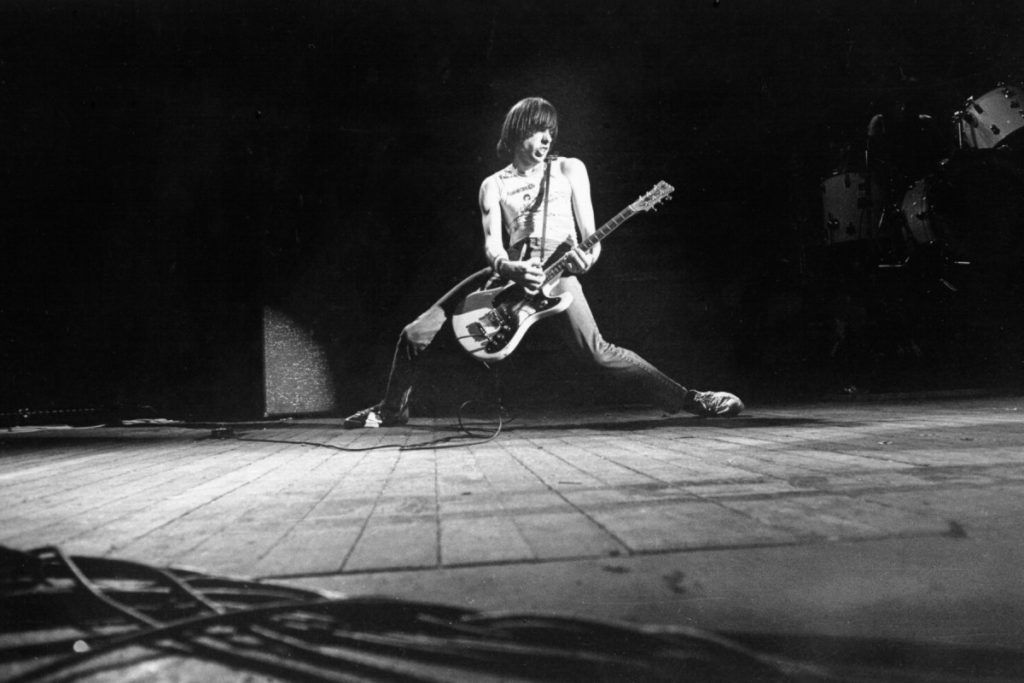 You can't talk about punk guitars without mentioning Johnny Ramone's guitar. He's famously known for playing the Mosrite Ventures Model II throughout his whole career with the Ramones. If you listen to any album from the Ramones you'll hear the distinct sound of Johnny's Mosrite Ventures being played.
From their debut performance at the CBGB in New York in 1974 to their last show at The Palace in Hollywood in 1996 Johnny ferociously used the Ventures Model II in and out of the studio and he left his mark on the punk world as we know it today.
"I bought a Mosrite because it was the cheapest guitar in the store. Now I've gotten used to it and I like it. I also didn't wanna get a guitar that everybody else was using – I wanted something that could be identified with me."

Johnny Ramone
One of the nine Mosrite guitars the legendary punk guitarist owned, sold at auction in 2015 for a whopping $71,875, The red guitar, personally owned and used by Ramone for at least seven years, was also autographed by the Rock and Roll Hall of Famer, "Best always, Johnny Ramone, 5/22/90."
---
5. Gibson LP Custom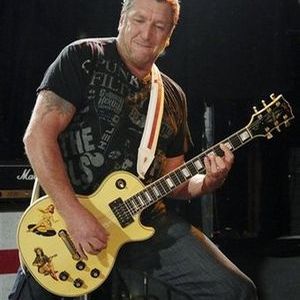 When looking at punk guitarists it's hard to skip Steve Jones from the Sex Pistols. His axe of choice is a Gibson LP Custom. The first guitar the Steve Jones played was an off white Gibson LP Custom, since then he has stuck with the brand and also had a limited run of signature guitars. Any record you listen to from the Sex Pistols you'll hear the crunchy sound of Steve's Gibson singing.
"You get hundreds of fuckers who wanna play like me, but none of them ever sound like it. It's my thieving dirty fingernails! Iggy Pop calls me the Robert Mitchum of punk."

Steve Jones – Sex Pistols
Jones was notoriously light-fingered, and pinched numerous guitars over the years. however, the sound of Never Mind The Bollocks is all Gibson. His main Gibson – a '74 Les Paul Custom was Syl Sylvain's of The New York Dolls who had given the guitar to Malcolm McLaren, the Dolls' manager at the time, in lieu of paying McLaren for plane tickets McLaren gave the guitar to Jones circa 1975, when he took over managing them.
---
6. Oktober Annihilator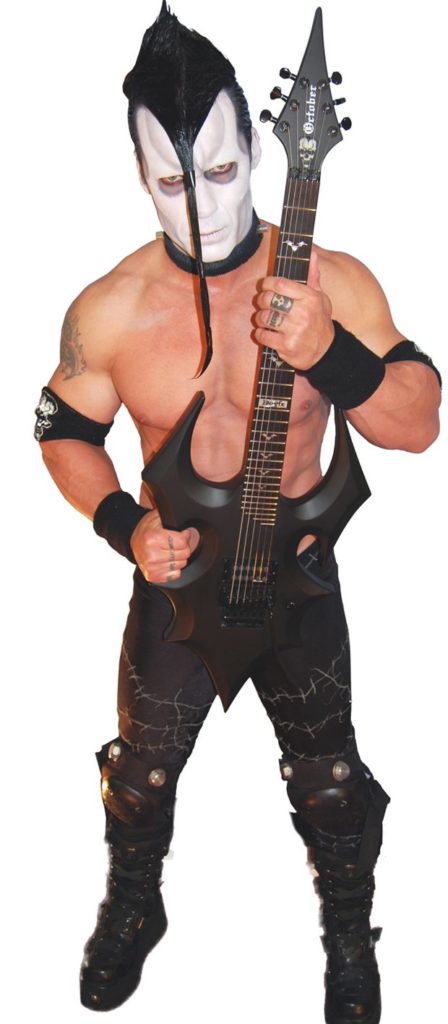 When talking punk if the name Misfits doesn't come up then it's probably a good time to leave the conversation. One of the more unique guitars on this list is the Oktober Annihilator. Doyle Wolfgang von Frankenstein exclusively plays this guitar live and can be heard on the majority of the Misfits albums.
"My brother bought me a guitar for my eighth grade graduation. Glenn Danzig showed me two bar chords and Jerry showed me two notes on the low strings. That's pretty much all I still know."

Doyle Wolfgang Von Frankenstein
What makes this guitar so special and unique is that it's almost an exact replica of Doyle's original guitar that he built himself. He uses a single DiMarzio humbucker in the bridge for his iconic sound and a Floyd Rose bridge that's been set into the body of the guitar, he did this so he doesn't cut up his hand up with his aggressive playing style. This is by far one of the most unique guitars used in punk
---
7. Old Blackie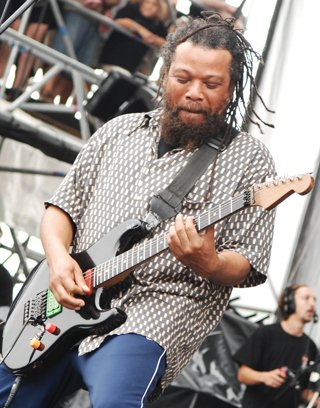 Finally, we've come to one of America's most influential punk bands, Bad Brains and guitarist Garry "Dr Know" Miller. Bad Brains have been pioneers in the Washington, D.C. hardcore punk scene since 1977 and because of this D.C. became the Mecca for hardcore punk.
"Old Blackie has an alder body, which I prefer because it has more oomph. It's a freakin' badass guitar! "

Dr. Know – Bad Brains
Dr Know started playing Les Paul style guitars but found they would cut into him while playing, that's when he discovered an ESP Stratocaster. "I never really liked Strats because they were too tinny," Dr. Know told Premier Guitar Magazine, "But then that was when ESP first came out and they had the shop over on New York City's 48th Street. Old Blackie has an alder body, which I prefer because it has more oomph. It's a freakin' badass guitar! "
---
No matter the guitar or piece of gear the musician plays, Punk is all about the attitude behind the music. That is the amazing thing about punk – there is no right or wrong. It's the feeling and attitude that matters!
Hey there! I'm Tom – a German born guitarist, songwriter and actor (including being an extra in Thor Ragnarok and Aquaman) I love music and playing live and most recently was in a metal band. I'm currently rehearsing with my latest project. Music is a passion of mine as is riding motorcycles – sadly I don't own a bike right now but itching to buy one again. I'm also a bit of a cat lover and looking to buy a rescue cat very soon!